SR's Keyes named "Best in the Desert" over summer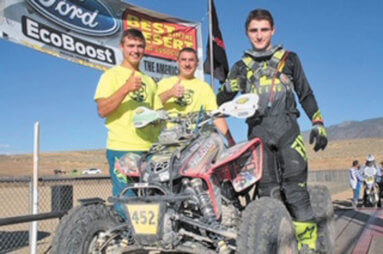 SUBMITTED PHOTO
Avery Perkinson
Student Correspondent

The Best In The Desert series Vegas to Reno race, at 550 miles, is the longest offroad race in the United States. One of South Ripley's own, Daulton Keyes, completed this race. Out of about 350 competitors, Keyes was the youngest person in the race; he and his partner placed first in their class, placed second overall for ATVs, and 40th overall.

Keyes' grandparents, Don and Brenda Gunter, and their partners, Ken and Marylou Eckstein, have an IXCR race at their property every year. That is how Keyes began racing. "I was hooked from that moment," Keyes said. "It is an addictive sport and it gives you such an adrenaline rush!" Keyes' parents are his biggest support system, along with his girlfriend Karisa Mundy, and many more friends and family members that stand behind him supporting and cheering him on. This is the eighth year Keyes has been racing as a whole. Last year he moved up to the adult division and on to a 450 ATV at the beginning of the race season and has progressed since then and kept moving up classes. Keyes usually only races for two-hour races which are all local races. Keyes and his friend from Georgia, Dylan Walraven, decided it would be fun to go to the desert and race for something new and get a good experience along with a different atmosphere.

Racing in the desert is something totally different, as is the competition. Keyes built a special quad just for the desert so the quad itself was something different than what he was used to racing with. "I was very nervous thinking about going 550 miles through the desert on one quad. Dylan and I would switch at each pit stop when we pitted for gas and checked the quad over for any mechanical issues," Keyes explained. There was usually 70+ miles in between each pit stop. The longest mileage Keyes rode between each pit stop was 116 miles without switching riders. "It was a great experience and I was glad I was able to experience it. Dylan and I made a great team. It was very hot, about 105 degrees and going through the desert at 70 mph felt like you were driving through an oven. It is definitely something I will be doing again next year," Keyes happily said.

This race took a lot of preparation for the Keyes family. After watching many YouTube videos, asking many questions about parts needed for the quad, and many more things, Keyes and his partner were finally ready for the race. It is a sport that you must keep practicing at and working out all the time to keep your physical endurance up and keep it where it needs to be to push yourself harder each race.