St. Paul Lutheran women put their hands to work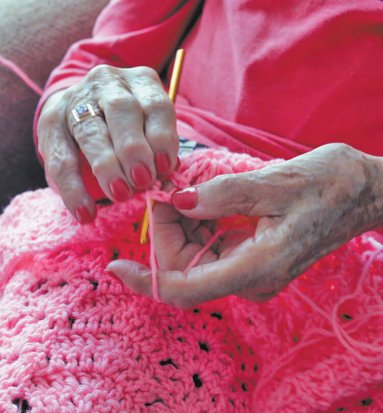 WANDA ENGLISH BURNETT PHOTO
Many hands make light work is indeed what happens when the ladies of St. Paul Lutheran Church in Olean get together. They have a variety of projects going on that will bless and encourage others, some who are having a rough journey right now. The ladies meet at the church every Tuesday from 1-4 p.m. October through April or May, making a difference with every stitch, tie, or piece of material they handle.

Phyllis Armbrecht said they have made over 600 quilts. That part of the ministry is for Lutheran World Relief. The quilts are sent to places many people may never see, but the people there use them sometimes to divide rooms, or for shelter from the elements. They also provide quilts for people locally. When asked if anyone can join their group, even if they don't know how to make a quilt, Phyllis said, "If you can't tie a knot, we'll teach you!"

Prayer Shawls was a project that Irma Rohls introduced several years ago at the church. Quick with her fingers, Irma can knit or crochet while she's talking, or watching the kids at an outdoor event, according to her daughter Phyllis. When the project started, the ladies decided they would give a prayer shawl to people who were going through chemotherapy or some catastrophic illness. "Little did my mother know the first shawl would go to me," Phyllis shared, when she was first diagnosed with cancer. This was 16 years ago. Phyllis knows first hand how much the shawls mean – the comfort they bring. Phyllis said they make a lot of prayer shawls to give out to people "who need a little love."

Another project that involves knitting and crocheting begins at the fingertips of the Lutheran ladies, and ends up at the Children's Hospital in Cincinnati. The impact of the yarn spun into beautiful little hats for premature babies, babies, and young children, will probably never be known. This year, Irma, who turned 97 in June, said she made 82 hats, to contribute to the items the church took to the hospital. The hospital hosts a Stitcher's Luncheon each year to honor those who contribute to this cause at the hospital. Ladies from St. Paul Lutheran recently attended the luncheon where there were at least 2000 items, according to Irma.

Irma has knitted covers for IV poles and coverlets for babies in the NICU. She noted that the covers are used to shield the babies from overhead lights and also as a teaching tool. She explained that many of the fabrics are made with brightly colored alphabet/words that the nurses there show the parents how to use to begin teaching babies about reading. "It's never too early to start reading," Irma noted. She worked in nursing most of her life in different places and finally for South Ripley schools. Phyllis noted that her mother held her licensure for nursing right up until she was past 90!

They do so much more. The ladies work on a project called, "God's Work Our Hands". It's a service project where they make fleece blankets that are given to foster children locally through the National Youth Advocacy Center. They also set aside the second Sunday in September to go into the local community and help people.

Phyllis said they have done different projects over the years. One that was interesting was making medical dolls. "Little Bit of Love" was the theme and into each doll that was handmade, they put a heart. "We involve the kids," she said. She told how four-year-old Connor McCarty wanted to do the project.

From the children to the oldest person who helps, the ladies at St. Paul Lutheran Church in Olean keep busy doing God's work with their own hands. Hats, afghans, prayer shawls, coverlets, IV pole covers, quilts. They're all made with love, meant to warm the hearts of the recipients, and instill hope in what might seem like a hopeless situation.