Stop! Watch for buses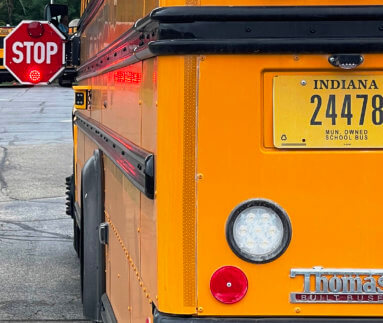 SUBMITTED PHOTO
With a Columbus East High School student being killed recently by a hit-and-run driver as she boarded a school bus, local School Resource Officers are ramping up school bus safety.

"Everybody's in a hurry," both Dan Goris and Ed Rodriguez agreed as they talked about the daily struggle of getting motorists to slow down when school buses are on the road.

The officers both spend a lot of time viewing recordings from the cameras on the buses and dealing with writing tickets for offenders. "I get a call from my drivers," Goris noted, saying when an offense occurs the drivers are "right on it." They watch out for the children, and often signal them to stop if they feel a vehicle isn't going to stop. He said he has written four tickets already this year and they don't come cheap. For a first offense the amount is over $200. He said it's a variety of people – all ages, even a student. The cost of a ticket also takes points off driver's licenses and if a child is hurt or killed, can be a felony charge.

Indiana law says "a person who drives a vehicle that meets or overtakes from any direction a school bus stopped on a roadway or a private road and is not stopped before reaching the school bus when the arm signal device is in the extended position or proceeds before the arm signal device is no longer extended, commits a Class A infraction." People should also know that when the camera takes a photo of their license plate the law states the owner of the vehicle involved in the violation has the presumption of committing the violation.

Rodriguez said he also spends time filling out paperwork and tracking situations where bus safety is violated. He said it doesn't occur at any certain time of the year, just that people continue to be so distracted. Even the students have their own form of distraction, constantly looking down at their cell phones instead of where they are walking.

Their goal is to educate and remind everyone about bus safety. The buses are now equipped with multiple cameras that can tell the speed of the bus, the vehicle approaching or passing, when someone is turning, stopping, and when the stop arm is deployed. "We know what happens from the cameras…we just don't want to see a child hurt or worse," Goris noted.

Children can only load from the right on state highways. However, the child that was hit in Columbus wasn't on a state road and was crossing the road.

In that case, the driver of the vehicle said he had seen flashing lights and knew he hit something, according to the probable cause affidavit. However, that driver continued driving away from the scene. He has now been charged with a level 4 felony for leaving the scene of an accident resulting in death, along with a level 5 felony, passing a school bus when arm signal is extended causing death. He is being held in the Bartholomew County Jail on a $500,000 bond. Shankara Subramanian, 25, has also been ordered to surrender his passport.

Police say that stop arm violations are on the rise. Local officials are aware of the situation and watching. With the death in this case of Lily Streeval, 16, fresh in their minds, they are definitely ramping up patrols, with bus drivers keeping a watchful eye as they bring the most precious cargo to and from home each day – our children.

Officers ask you to take a little more time, be watchful and help keep our children safe.