Strong start lifts Lady Bulldogs over SR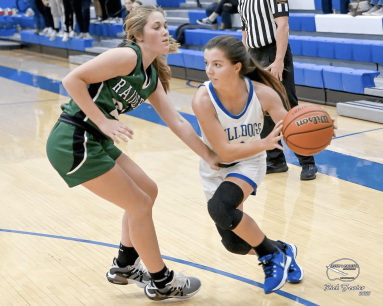 RICH FOWLER PHOTOS
South Ripley outscored Batesville 37-28 in the final three quarters but the Lady Bulldogs did too much damage in the first quarter, hanging on for a 44-39 victory at home against the Lady Raiders in a Ripley County girls basketball rivalry game.

Batesville used the victory to snap a two-game losing streak while the game marked the second-straight loss for South Ripley. The Lady Bulldogs last victory over the Lady Raiders was two years ago in a 41-29 victory on January 7, 2020.

A mixture of defense and poor shooting on South Ripley's part Saturday night gave way to perhaps the best quarter of basketball Batesvilles has played this year. The Lady Bulldogs limited Ripley to just two points in the opening eight minutes while the offense dazzled, pouring in 16 points to take a commanding 16-2 lead at the first stop. Batesville's lead would expand to 26-11 by halftime and then up to 38-20 through three quarters but the green and white had other plans than to allow a blowout.
South Ripley mounted a comeback that replicated what Batesville did in the first quarter and such a run almost pushed them to victory. The Lady Raiders scored 19 points in the fourth period and limited the Lady Bulldogs to just six points, their lowest quarter total of the evening. But again, Batesville's first quarter fortunes and inching out the margin ultimately was the pivotal factor, paving the way to a five-point win.

Shooting numbers for both teams finished up shaky as Batesville shot just 33 percent from the field while South Ripley sat at a 32 percent clip. Each team had just one player score in double figures. The Lady Bulldogs were led by sophomore Alyson Peters with 21 points on 9-of-12 shooting and the Lady Raiders got 13 points from Emily Flood who was 5-of-10 from the field and 3-of-6 from the three-point line.

Emma Weiler scored eight points for Batesville and Lydia Haskamp posted six points along with a team-high 10 rebounds. Sophie Gesell finished with four points, Lizzy Nobbe scored three points and Ava Hanson put in two points.

Peters grabbed six rebounds and had four steals on the defensive end while Gesell had six boards, four assists and two steals.

Junior Lydia Cornett scored nine points for South Ripley and that was followed with six points by Katelynn Samples. Morgan Brightwell and Valentina Cogni each scored four points, Reese Obendorf scored two points and Lexi Franklin added one point. Obendorf did post a team-high eight rebounds while Cornett had six boards and a team-high four assists.

Franklin and Samples added a blocked shot apiece.
Batesville (2-3) is home against Jac-Cen-Del on Friday night before visiting Connersville in an Eastern Indiana Athletic Conference game. South Ripley (4-3) is at North Decatur on Tuesday night.