Students share feelings after bus crash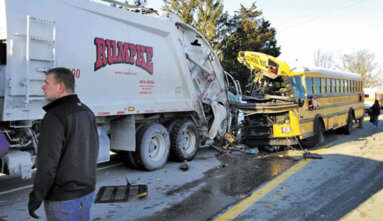 Submitted Photo
On March 6 a Dearborn County school bus, operated by Raymond W. Nies, 64, of Moores Hill, collided into the rear of a 2018 Rumpke truck, being operated by Brian J. Rumpke.
According to Indiana State Police Versailles District, the two vehicle crash took place on State Road 350 near Mount Sinai Road. After impact, both vehicles came to rest in the eastbound lane of State Road 350, closing the area down for approximately four hours. Brian Rumpke, who was standing outside his vehicle, was struck by debris and sustained non-life threatening injuries, while Nies sustained serious injuries. Both were transported to HighPoint Health for treatment. Nies was later transferred to University of Cincinnati Hospital for further treatment.
There were a total of twenty-two students, ranging from 6th grade to 11th grade, on the school bus at the time of the crash. Seventeen students were transported from the scene by ambulance to HighPoint Health for treatment of non-life threatening injuries.
Two siblings on that bus, a 7th grader and 9th grader, recalled how they felt that day. The younger student was sitting towards the front of the bus. She remembers talking with her friends, telling them it was her birthday. As they were talking, she heard someone scream "watch out", looked up and saw the garbage truck, and then the bus went into the back of the truck. She remembers one of her friends flying out of their seat. She also remembered hearing another of her friends screaming, but was too scared to help. She thinks she blacked out at that point and when she came to, everything was gray.
The older of the siblings said she was "freaked out" when it happened. She was sitting towards the back of the bus. She remembered bouncing back and her glasses being broken, and that she could hear some kids screaming. She also noted she lost her phone. This was the second bus wreck she has been in while attending South Dearborn.
Both sisters were transported together to HighPoint Health in an ambulance. The girls said they are feeling better and planned to return to school on Monday, March 10. The younger sister has some limitations, and cannot participate in gym and swim. They both said they will not be riding the bus to get to school.
The crash remains under investigation. Both Nies and Rumpke submitted to blood draws while at HighPoint Health, although alcohol and drugs are not suspected to be factors at this time.
The Indiana State Police was assisted by the Dearborn County Sheriff's Department, Aurora Police Department, Lawrenceburg Police Department, Moores Hill Police Department, Aurora Fire Department, Moores Hill Fire Department, Dearborn County EMS, Ripley County EMS, and South Dearborn School Corporation.