Sun sets on 2023 Versailles Pumpkin Show – Pumpkin is largest at 1765 lbs.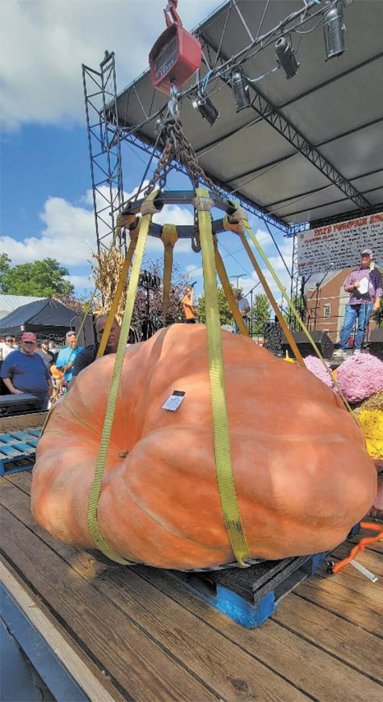 HarleyJo Kennedy Photo
2023 sets a new Pumpkin Show record at 1765 pounds! Topping last year's record by 56 pounds!
The history of the Pumpkin Show is lengthy and detailed. The first Pumpkin Show was arranged by a local jeweler to bring business to his shop that was located near the now "Courthouse Square."
In 1903 they weighed in the first pumpkin in the "Great Pumpkin" contest. The first pumpkin winner was a grand 74 pounds and 5 ounces! Small by today's standards.
In 2020, even though covid canceled the actual Pumpkin Show, there was a Pumpkin weigh-in and contest.
Our Pumpkin Champion last year (2022) set a new Pumpkin Show record with a weigh-in of 1709 pounds. In 2021, the winner only weighed 1221 pounds. However, this year, Jim Gunther (from Corydon, IN) brought a behemoth!
Gunther shares that it takes a LOT of work and 12,000 gallons of water this past month! He also shares his wife is a self-declared pumpkin widow!
Alan Welch and Brian Gilpin are the "weigh-in" crew. Welch arranges the tackle and Gilpin operates the hoist/crane. Gunther assists and makes sure his prized pumpkin is safely lifted, weighed and replaced on its' bedding and pallet.
Welch remembers, we used to lift the pumpkins by hand. "In the 80's and 90's, a group of us guys would lift them and place them on the scale. We can't do that anymore with pumpkins this size!" states Welch.
Gunther takes home the first prize from the Pumpkin Show. But he may have set another Pumpkin Show record as he was, also, the only entrant.
However, he definitely set a new record that will hold until he or another farmer brings in a larger pumpkin next year. Gunther took 2nd in the KY State Fair earlier this year.
Congratulations to Gunther! Now your wife is no longer a pumpkin widow! However, what does become of the behemoth pumpkin after the contests are over?