Sunman Council receives grant funds, promotes reserve officer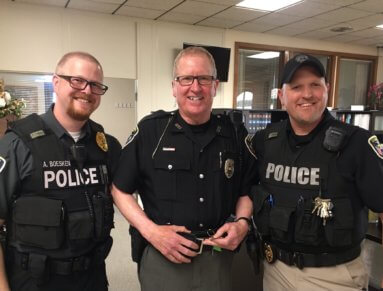 The Ripley County Community Foundation presented the Town of Sunman with a $5,000 grant during their regular meeting last week. Amy Streator, RCCF executive director, presented the Sally Morris Community Impact Grant to the town, which applied for the funds to help offset the cost of sewer and water rate study. The town also received $6,345 from the "Quality of Life" Endowment Fund to cover the costs of the study.

Ken Steinfort, a reserve officer for the Sunman Police Department, was promoted to Lieutenant, filling a vacant seat in the department. Marshall Jason Hoffman praised Steinfort for the time he has already given with the department. Steinfort thanked the town for the opportunity and for trusting him with the responsibility.

The council heard their first report from the town's new utility superintendent Bill Neyer, of Harrison, Ohio. Neyer has the wastewater certifications needed for the position and is in the process of getting the required certifications to sign off on the town's water system paperwork. The Indiana Department of Environmental Management will review Neyer's previous experience, which will decide how long the town has to keep a contract with an individual who has the water certifications. Council accepted a proposal from Brett Rauch to handle the paperwork until Neyer can acquire his certifications.

In other council business:
• Town Attorney John Kellerman explained that the county's Republican party is still responsible for finding a replacement for Marilyn Decker's council seat. Decker passed away in June. He stated that if the party fails to name an eligible candidate to the council by August 1 that the responsibility of naming Decker's replacement then falls to the other Sunman Council members.
• Council discussed selling an Impala, which has been retired from the police department. Kellerman explained the town can sell the vehicle through a bidding process – which can take place online – and the bids will be opened during a public meeting. Council decided that the town will accept bids through August 12. The minimum bid will be $1,350.
• The board discussed moving the town's election cycle to be on the same year's as the county. Clerk-Treasurer Cheryl Taylor said making the change would save the town thousands of dollars. Kellerman said the earliest the board could make the change is January 2022 due to a state law stating such changes must take place in the calendar year prior to an election.
Sunman Council will meet again on Thursday, August 19 at 6:30 p.m.