Sunman names interim marshal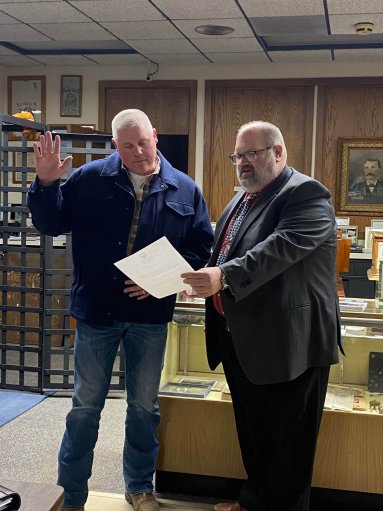 SUBMITTED PHOTO
Just a week after the Town of Sunman Board members met to discuss naming an interim marshal, they selected Tom Grills on January 20.

Grills was sworn into the position at the monthly council meeting by the town's attorney, John Kellerman. Grills served two terms as Ripley County Sheriff, and was a deputy for the sheriff's department prior to that, making him have several years in law enforcement.

According to information from the town, Grills will be responsible for making determinations on the future direction of the Town of Sunman Police Department. This includes hiring a deputy marshal and reserve officers. After the prior marshal was terminated, it took away the powers of the reserve officers with some of them resigning. The deputy marshal also resigned.

Grills will also be assessing the budget and equipment needs and overseeing the hiring process for a new full-time marshal.

The Ripley County Sheriff's Office and the Indiana State Police will continue to provide additional coverage to the Town of Sunman during the interim.
The town has always had police coverage throughout this process.