Teams, coaches stay connected and keep school spirit alive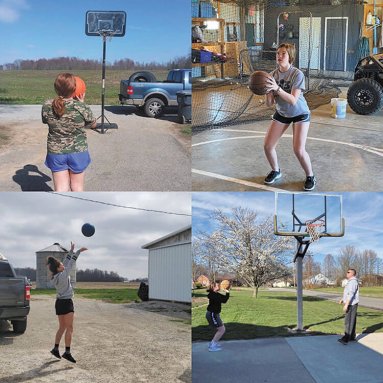 SUBMITTED PHOTOS
We know staying home is the best thing to do right now in order to slow the spread of the coronavirus, but that also means many are feeling restless. And as hard as it is for adults, just imagine having the energy of a teenager!

Thankfully, many local teachers, coaches, and school officials are reaching out to their students and athletes and helping them stay connected and active as we are physically distanced.

Jac-Cen-Del cheerleading and flag corps coach Nichole Drockelman started a video challenge last week with her cheer squad in order to boost school spirit. "We are thinking of you, JCD family. Stay strong, stay safe, and stay healthy," she said in the introduction. The idea is that other school teams will create and share their own videos as challenged by the team before them.

Drockelman said she's staying in touch with her teams through regular text messaging. "We have offered prayers for each other," she says, and they also just like to talk and catch up with each other.

Milan schools took to social media recently to show off their "Milan Black and Gold" attire for school spirit. Athletic director John Prifogle shares that many Milan coaches are in contact with their athletes to encourage them to stay active and positive despite the recent upheaval to daily life. Some athletes have shared videos of workout routines using unique items found around the home and farm in lieu of barbells and dumbbells like they would use in a gym. Even though kids may not have access to traditional equipment, with a little ingenuity they are finding ways to build strength and endurance from home.

Prifogle reminds Milan athletes that the current semester of e-learning counts for fall sports eligibility, so students still need to prioritize academics and make sure they are keeping grades up, even though school looks different than normal.

Prifogle reports that Milan plans to reschedule their annual physicals in partnership with Highpoint Health and OrthoCincy once they are able. Per IHSAA guidelines, all athletes must have a physical on file each year. More information on a date is forthcoming.

South Ripley volleyball coach Lisa Gilpin has created a YouTube channel to send out skills videos to girls in her junior high and high school program. "This is one way for me to be able to help them keep active," she says. The skills she is encouraging girls to practice are aligned with what will be asked of them in team tryouts this fall, so she hopes that is a motivator for participation.

Gilpin says she has close to 60 girls currently following along with the videos. She sends out a GroupMe app reminder when a new video is posted. She encourages her athletes to keep a journal of their daily physical activity and to share photos of their volleyball practice.

"They are following through," on the routines, she says, adding that many parents have told her their child looks forward to practicing each day – it's become a fun family activity and a way to get fresh air outdoors together.

Girls basketball coaches Matt McNew of South Ripley and Scott Smith of Jac-Cen-Del both share that they have been in regular communication with their teams. Regarding staying in touch, McNew says, "As a coach that's where I feel that I have to help keep their spirits up." He says he looks forward to being able to get back into the gym, but for now, "It really brings us all together in a different way even though we are apart."
Coach Smith says he's proud of how his kids have responded during trying times. "They are working hard on their own." He's reminded his players that before the days of open gyms and AAU leagues, athletes had no choice but to work on their skills alone at home.

Both basketball coaches are sharing conditioning routines and skills challenges with their teams. Coach McNew shares that local exercise instructor Courtney McGuire is leading group workouts twice a week online with the team. "She's quite the motivator," McNew says. In addition to the workouts, the Lady Raiders work on basketball skills like free throws and mid-range jump shots.

Coach Smith shares that Lady Eagles players are recording and posting their ball handling and shooting drills on Twitter to help motivate each other. They also have a weekly shooting challenge, which entails different games that add up to see who scores the most points. Smith commends the girls for their consistent participation and even says some of them will text him if he hasn't sent out their daily workouts early enough in the morning.

Coach McNew sums up what a lot of teams are feeling right now: "We really are a big family, and families miss spending time together." Like many coaches, he says he's looking forward to being together again and seeing all of the smiling faces of his athletes.