Thankful for the gospel they can share with others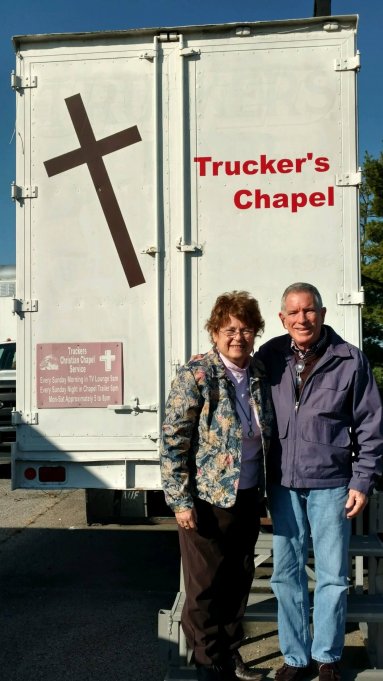 SUBMITTED PHOTO
At a time of turmoil in our country and COVID-19 fears running rampant, Thanksgiving is a welcome respite, even if people are being encouraged to "do it differently" this year. Something a couple from the Versailles/Friendship area is thankful for is ministering to truck drivers. Dave and Valerie Wilson travel to Florence, KY, to a TA truck stop once a month where Dave shares the gospel with men and women from all over the country.

They have been doing this for over two years and enjoy every minute of it. "Men and women from all over the country are there," noted the Wilsons. "Some are doing the driving for a living and others are just on an occasional run. They share their needs and concerns with us."

The Wilsons say with both male and female truckers, an estimated 8.5 million on the road of America, there are many needs among them. Finances, marriage issues, depression and loneliness face them every day.

Jeremy Wilson, son of Dave and Valerie, had been involved with the ministry through sharing his musical talent there. He attended the church service at the truck stop with some of the men from the church he attended. He asked his dad if he would be interested in speaking at the truck stop. After prayer and consideration, Dave felt he was ready to share the gospel with the truckers there.

According to the Wilsons, Glen Cope, tanker truck driver, started several truck stop ministries, "Truckers' Christian Chapel Ministries". This was over 40 years ago. Rick Garcia oversaw this ministry for several years at this site. After he moved to the Dayton area, Bill and Peggy Stephenson and Jim Miller took it over in October of 1991.

Saying that all ministries struggle off and on, the trucker's ministry took a particular hard blow when Bill and Peggy Stephenson were found murdered inside their home in Florence, KY. Their killer or killers have never been brought to justice with the investigation in Cold Case Files and a National Team.

Sometimes it is hard to get up early on Sunday morning to drive to Florence, KY, but they are mightily blessed in doing so. Dave loves to share the good news! He also takes local speaking engagements. If you have a need for a speaker at your church, you can contact him at willi52751@gmail.com.

"It's such a special privilege to share the gospel of Christ anytime and anywhere…especially in a place with such far reaching potential. I can only imagine how God has used (and is using) this ministry to save souls and changes lives for His glory. What a wonder it will be to hear their stories one day in Heaven," shared Dave.

History of trucking ministry

During the last 40 years, the ministry was housed at the 76 trucking location at I-75 and KY 18 and owned by the Burns Brothers. The ministry was housed in the upper level of the 76 gas station. Eventually, the brothers sold the location to Travel America Truck Stop.

TA decided to demolish the site and rebuild. They asked the ministry if they wanted any items at the site. They removed what they wanted, but had to find another site.

The Flying J allowed them to put a semi (Mobile Chapel) in the back of their location, albeit the ministry had to pay $1500 to bring electric to the semi. In about six months, corporate decided they could not remain. About that time TA was finished and welcomed them back. TA has a room where the drivers can rest, chat, power their cells, etc. They graciously have allowed Mobile Chapel to use that room every Sunday morning. Sunday evening, the truck is used to meet in for the evening service.