The tribe is ready for gridiron battle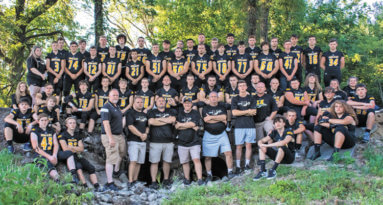 Jared Rogers Photo
The Milan Indians varsity football team, under the direction of Head Coach Ryan Langferman, is eager to test their mettle against area teams this fall. "Every time we go out there, we want to leave everything on the field," senior defensive end Logan Nudds said regarding the upcoming season.

The Indians will have a warm-up game tomorrow, Friday, August 16, as they scrimmage against the South Dearborn Knights at South Dearborn High School. Then, the win-loss tally begins as the Indians compete against the Rushville Lions for their home opener on Friday, August 23 in Milan. The team hopes to avenge a heartbreaking loss to the Lions last year, which ended at 36-35 after a back-and-forth, tense game.

Overall, Milan finished last year with a 6-4 record, the best in their Mid-Indiana Football Conference. After opening losses to Rushville and Batesville, the black and gold team took off on a five game win streak over Lawrenceburg, South Decatur, North Decatur, Edinburgh, and Providence. They also routed Switzerland County for their sixth win, while losing to Providence and then Triton Central in the opening round of the sectional.

The team has been holding official practices and team building activities since August 5, and Coach Langferman says he is looking forward to seeing his team's hard work pay off under the Friday night lights.

He's using the motto "W.I.N." this year – What's important now? "We want to take this season one game at a time and improve every week," he says.

Players expressed what they needed to do in their individual positions in order to help their team be successful. As a defensive end, Nudds said his key role will be to pass rush and stop the outside run.

Senior Dakota Sams, whose been playing football in Milan since elementary school, said that from his linebacker position he will help relay defensive calls to his teammates and encourage them to do their job every play.

Sams also pointed out that the role of underclassmen on the team is of vital importance. Those younger players act as the opposing team each week during practice, based on each team's individual scouting report. "They get us ready for Friday," Sams noted.

For junior defensive tackle and offensive guard Chandler Reatherford, he says he's been working with his coaches to use his hands more at the beginning of plays. "I'm ready to do my job for my team," he said.

Although every coach knows there will be a few kinks to work out early in the season, Langferman wants his Indians to start on solid ground, minimizing penalties, turnovers, and negative plays to jumpstart their record. With continual improvement from there, coaches and players hope their season will extend well into the cooler nights of fall.

As for strategy, Langferman shared that his team will most often employ a 4-2-5 defense, meaning four lineman will line up on the ball. He says Milan has the strength and size to put four guys down.

On offense, Langferman says, "To win games, you have to run the football." His spread offensive plan will provide opportunities to rush with the ball as well as pass when the opportunity arises.

A highlight for Milan this year will be playing at Lucas Oil Stadium, home of the Indianapolis Colts, on Saturday, September 7. As part of a "Southeastern Indiana Showdown" Milan joins a host of area teams taking the field in Indy that day.

Beyond the painted hashmarks, Langferman says football teaches youth many valuable qualities. "One of the many highlights of coaching is watching [players'] confidence grow as they experience success and learn that hard work is a valuable life skill."

On the football field, players experience adverse conditions and must commit to hard work to persevere. "They often find that they are capable of things they did not think were possible," Langferman continues.

Those life lessons are important, no doubt. For now, however, Reatherford and his teammates embrace the team's in the moment W.I.N. motto: "We have high standards and want to go past the sectional. We're going to play as hard as we can each game."

Good luck to the Milan Indians football squad as they take the field this 2019-20 season. Local sports fans are encouraged to attend games and root for their home team.