Thomas swims to state finals berth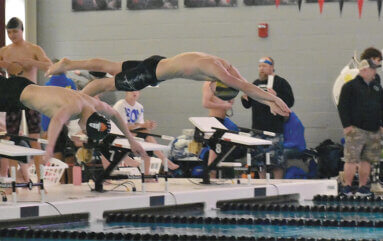 SUBMITTED PHOTO
For a second-straight year the coverage area will be represented in the state's biggest pool as Milan's Dylan Thomas is once again headed to the IHSAA Boys Swimming and Diving State Finals.

Thomas earned a state berth after swimming last Saturday in the IHSAA Sectional Finals at East Central. He, along with several other Milan teammates were featured in the championship round of the two-day sectional event that also boasted locals from Batesville, South Ripley and Oldenburg Academy.

With preliminary round action in the background after Thursday night in St. Leon, sectional championship qualifiers hit the pool on Saturday with winners and time qualifiers getting automatic bids to the state finals. Among coverage area swimmers, Thomas was tops on the list, swimming to a pair of third place finishes. His third place podium finish in the 100 breaststroke was his ticket to Indianapolis, swimming in a time of 58.44 seconds which was a state qualifying time. His third in the 200 individual medley broke his own school record in the event, hitting the finish line in a time of 1:59.22.

Milan had four other top 10 finishes, three in relay events. Thomas, Abe Hudepohl, Gabe Rigdon and Parley Hartwell were seventh in the 400 freestyle relay at 3:43.96 and the 200 freestyle relay team of Hudepohl, Ayden Potts, Liam Horton and Parker Sutherlin placed eighth in 1:45.04. Another eighth place finish was Thomas, Hartwell, Rigdon and Potts in the 200 medley relay at 1:45.86. Hartwell swam the 100 breaststroke and squeaked just inside the top 10 with a time of 1:05.67.

Sutherlin was 13th in the 500 freestyle in a time of 5:20.46 and then finished 15th in the 200 freestyle at 2:00.29. Hartwell competed in the 200 individual medley and came in 16th at 2:18.08.

Batesville squeaked by rival Milan in the team standings and did so using five top 10 finishes, led by Will Johnson who was fourth in the 100 freestyle at 49.08 seconds and sixth in the 50 freestyle at 22.60 seconds. Johnson then teamed up with Ciaran Tyrer, Emi Lopez and Matthew Tekulve in the 200 freestyle relay for a fifth place in the 200 freestyle relay at 1:34.97. That same crew swam sixth in the 200 medley relay in 1:43.99.

Sam Richardson, Blake Hon, Ian Carpenter and Tyler Kuntz swam the 400 freestyle relay and finished ninth in 4:19.67. Lopez had 12th and 16th place finishes in the 50 freestyle and 100 freestyle at times of 23.80 seconds and 53.45 seconds respectively. Tyrer placed 13th in the 100 butterfly at 59.15 seconds.

South Ripley set two school records before rounding out its season on Saturday, both set by the quartet of Jordan Davis, Evan Eaglin, Thomas Eaglin and Landon Saylor. The group first placed eighth in the 400 freestyle relay in a record time of 4:08.86 then set the school's 200 medley relay record with a time of 2:06.59 and finished 10th. Shane McAdams, Thomas Eaglin, Jackson Adams and Davis swam the 200 freestyle relay and just missed the top 10, going 11th in 2:07.54.

Evan Eaglin was the only Raider swimmer in an individual event. He was 16th in the 50 freestyle in a time of 24.50 seconds.
A fourth school record was broken among coverage area teams when Oldenburg's Santiago Schutte finished eighth in the 200 individual medley in a new program-best time of 2:06.81. Schutte also swam the 100 freestyle and placed 11th at 51.76 seconds.

Three Twister relay teams competed in the finals with the best finish coming from Schutte, Noah Schenk, Albert Hudepohl and Luke Hopkins. The four were ninth in the 200 freestyle relay at 1:50.27. Hopkins, Sully Hill, Dominic Yane and Hudepohl were 10th in the 400 freestyle relay in 4:38.17and Yane, Schutte, Hill and Schenk swam 11th in the 200 medley relay at 2:08.86.

Bloomington North was the top team at the sectional, scoring 415 points while Bloomington South was second at 368 points. East Central, Columbus North and Columbus East rounded out the top five. Batesville was seventh with 115.5 points, edging Milan who was right behind with 114 points. Oldenburg (61 points) and South Ripley (49 points) placed ninth and 10th respectively.

The IHSAA State Finals at the IU Natatorium on the campus of IUPUI in Indianapolis will be a two-day event with preliminary action on Friday and the finals on Saturday. Thomas, who exited after day one last year in the state meet will try to notch his spot into a loaded final field in 2023.

Thomas is set for competition on Friday at 6 p.m. with action on Saturday slated for 1 p.m. Both days will have video stream available online at IHSAATV.org. Friday only will cost $10 while fans can purchase both days of the event for $15.