Three-run rally lifts JCD boys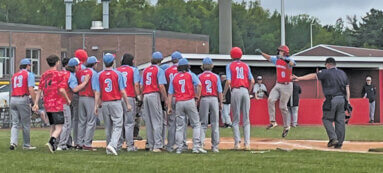 SUBMITTED PHOTO
Jac-Cen-Del scored three runs in the bottom of the seventh inning and came all the way back to defeat visiting Milan 5-4 in an Ohio River Valley Conference baseball game on Friday night.

The victory allowed Jac-Cen-Del to stay in third place in the ORVC standings while Milan dropped to sixth place. It was the first Eagle win in the season series after the Indians had won 13-2 on April 17.

A thrilling Friday night affair last week saw the two teams combine for nine runs, but on just six hits, five of which belonged to Jac-Cen-Del. Despite just one hit, Milan led 2-1 after the first inning and broke up a 2-2 tie with a run apiece in the fifth and sixth frames. Trailing in the final inning, the Eagles mounted their successful comeback which culminated with Brady Borgman scoring the winning run.

Borgman's winning run was his second run scored as he went 2-for-4 with a home run and single that helped him put together two RBI. Keagan Williamson was 1-for-2 with a run and RBI and both Austin Bowling and Clark Dwenger had a base hit apiece. Dylan Ricke and Carson Hughes each scored a run.

Devin Grieshop started the game on the mound for Jac-Cen-Del and allowed three runs -two earned- on one hit in four and one-thirds innings. He walked seven and struck out three. Borgman relieved him and got the win in two and two-thirds innings of work, allowing an unearned run on no hits with three strikeouts.

Milan statistics were not provided by time of print. The final game for the Indians last week saw them go to 5-11 overall and 4-7 in the ORVC. Milan was at Southwestern (Hanover) for a conference game on Monday night.