Tompkins sets SR strikeout record!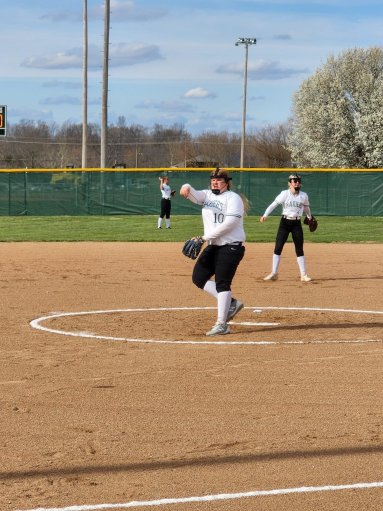 PHOTO BY LINDSEY BROWN
South Ripley senior Mady Tompkins already has her name plastered all over the softball record books at the school and another spot now dons her name as the Lady Raider flamethrower set a new mark on Wednesday night as part of a 2-1 win over Switzerland County.

Tompkins, who already owns the single-season and career strikeout records at the school, set the program record for strikeouts in a game on Wednesday, fanning 18 batters inside a dominant performance that included allowing just one earned run on three hits. She walked just two batters in her seven complete innings of work.

For Tompkins, the two strikeout records pair with her single-season earned run average record of 1.06. She also owns two batting records, the single season batting average record and the single season home run record.

As for Wednesday night's Ohio River Valley Conference showdown, both teams scored a run in the third inning before South Ripley scored the go-ahead run in the bottom of the fourth. Prior to and after it was defense for both squads that starred as part of a major conference tilt. With the win, the Lady Raiders remain tied for first place in the ORVC standings with Rising Sun.

Alexa Heidt and Ellie Waldron both doubled as seven different Lady Raiders recorded a hit. Heidt drove in a run while Waldron scored once. The other RBI and run for the team was picked up by Brooklyn Brown and Morgan Meyer respectively.

Maddie Duvall had two of Switzerland County's three hits and had the lone RBI. Jessie Duvall hit a single and scored a run. Senior Lily Sparks threw six innings and was tagged with the loss inside the circle after giving up two unearned runs on seven hits with six strikeouts.

South Ripley (11-2, 5-1 ORVC) went to Jac-Cen-Del on Monday night and hosts Milan on Wednesday as part of three scheduled conference games this week.