Tompkins signs letter to University of Ill Springfield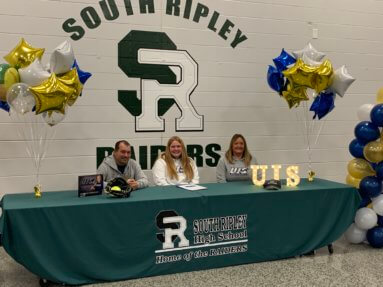 ROB LAFARY PHOTO
From a young age, it was pretty obvious that South Ripley senior Mady Tompkins had a knack for hurling a softball at a rather fast speed. Fast forward a decade later and that heat from inside the circle has now landed the Lady Raider into a pretty rare category.

Not at all known as a school to send student-athletes to the next level in the softball ranks, Tompkins became one of the few Lady Raiders in history to pursue such a path last Wednesday, signing her national letter of intent to play softball at the University of Illinois Springfield, an NCAA Division II school.

Tompkins, who without question is one of the program's most decorated players, signed her letter in front of family, friends, teachers and teammates inside the South Ripley High School Auditeria. The Lady Raider ace was one of many throughout the country on Wednesday to take part in the NCAA's biggest day for committed high school student-athletes.

"When I got there it just felt like home," Tompkins said of Illinois Springfield. "I went to their first camp and I just knew it was the place I wanted to be. The campus, the softball program and the academics all match up with everything I wanted in a college choice."

Despite missing out on a sophomore season of softball due to the COVID-19 shutdown, Tompkins has made the most out of her high school career and her junior campaign not only saw individual success but team success at a historic level.

South Ripley finished the 2021 season with a 15-7 record and a 9-3 mark in the Ohio River Valley Conference but it is what Tompkins and her teammates did in the postseason that turned heads. Under the leadership of Mady's dad, head coach Shane Tompkins, the Lady Raiders not only captured their first sectional championship in 20 years, but won the program's first-ever Class 2A regional championship en route to a Class 2A Elite 8 appearance, bowing out to Sullivan in the semi-state.

As for Mady Tompkins, her record-breaking individual season helped pace the team to such accolades. The junior pitched her way to a 10-3 record with single-season records of 182 strikeouts and an earned run average of 1.06. At the plate, Tompkins set a single-season batting average record of .556 and broke a 30-plus year single-season home run record, bashing 10 dingers while also notching 40 runs batted in, one shy of tying a single-season mark. She was an All-State performer while also being named All-ORVC, All-Sectional and All-Regional in the process.

Tompkins' freshman campaign back in 2019 saw an earned run average of 2.18 with a then-strikeout record of 149 punchouts. She batted .438 with 13 RBIs and seven doubles while also being named to the all-conference squad. South Ripley finished that season at 13-8, its first winning season since 2014.

"Winning sectional and regional and the bus rides after," Tompkins noted when reflecting on her favorite softball memories. "That regional win, especially being at home with a big crowd was such an awesome experience. It has been a great softball experience here at South Ripley. It's not about the records for me. It's about taking everything one game at a time and seeing what my teammates and I can go out and accomplish."

Illinois Springfield boasts one of the best NCAA Division II softball programs in the Midwest, having made multiple postseason appearances in recent years including making it to the NCAA Super Regional in 2018 and the NCAA Regional Finals in 2019. The Prairie Stars spent the past year in a bit of a rebuild and went 19-27 overall with a 14-14 record inside the Great Lakes Valley Conference, which also features the University of Indianapolis and the University of Southern Indiana.

Tompkins, who will primarily serve as a pitcher, is one of five recruits for the program in the Class of 2022. UIS head coach Shannon Guthrie, who is in her eighth season and leads the program in career coaching wins, says she is very excited to add someone of Mady's caliber to the pitching rubber.

"She (Tompkins) is the type of player you want," Guthrie said of the South Ripley senior. "She has a tremendous work ethic and is great in the classroom and we pride ourselves on that. We brought her to campus and knew she was going to be a weapon. She is something very different from the rest of our pitching staff given her movement and how her pitches change speeds. She keeps batters guessing and frustrates hitters."

Tompkins, the daughter of Shane and Deb Tompkins, is currently focused on leading a loaded South Ripley softball program in their quest for a state championship in 2022 but does have her future college days still on her mind. The intended Pre-Med Biology major says she is ready to see just how far she can take her skill set.

"I am just looking to play a key role with a different look on the pitching rubber," Tompkins added. "I see myself coming in whenever they need me to pitch and just being able to be a different kind of pitcher that can throw different speeds and put some spin on the ball. I really think that as long as I work hard I have a great opportunity ahead to make an impact."