Traffic stop sends 2 to jail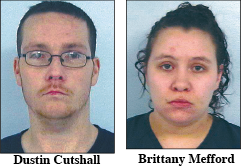 When Ripley County Deputy Sheriff Adam Hunger stopped a vehicle on February 16 while on regular patrol, he didn't know it would turn out to be a drug stop. The officer noticed the truck traveling southbound on US 50 about 6 p.m. near US 50 and Abdon Drive in Versailles. He then proceeded to stop the vehicle for following too closely and reckless driving. When he came up to the driver's side door, he instantly smelled marijuana. The smell was stronger as the officer stood there talking with Dustin Cutshall, 30 of Madison.

A female passenger, Brittany Mefford, 24, also of Madison, along with Cutshall was asked to step out of the vehicle, which they did. Both denied having marijuana with Cutshall telling Deputy Hunger he had smoked some earlier that day.

The officer confiscated a clear plastic straw with a small metal spoon-like object stuffed inside the straw. Inside there was white residue. Cutshall said it was Suboxone, but he didn't have a prescription for it.

When Deputy Hunger found a plastic straw with white residue in a purse belonging to Mefford, she said she snorted Suboxone with it. She also admitted she didn't have a prescription for the controlled substance.

As Mefford was being led away from the scene by another officer, Deputy Lee Davidson, to take her to jail, she said she had something up inside her, according to the Affidavit for Probable Cause. When she arrived at the jail, a female officer found two baggies – one had approximately 6.5 grams of cocaine and the other had two pills that were Oxycodone.

Mefford was formally charged with Possession of Cocaine, Unlawful Possession or Use of a Legend Drug, Possession of a Controlled Substance, and Possession of Paraphernalia.

Cutshall was formally charged with Possession of a Controlled Substance and Possession of Paraphernalia.

Editor's note: All people charged are presumed innocent before proven or admission of guilt in a court of law.