Turner tourney raises thousands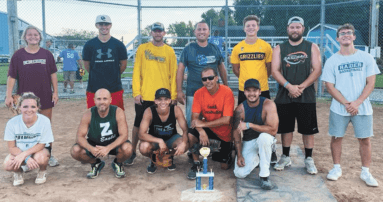 SUBMITTED PHOTO
Landon Turner spent a lifetime putting a smile on the faces of many and promoting others to have a great time. Sunday afternoon saw the community do both in his honor.

Turner, a 2021 graduate of Jac-Cen-Del who tragically passed away earlier this summer in a single-vehicle accident, saw family and friends come together over the weekend to raise over $4,000 as part of the inaugural Landon Turner Memorial Softball Tournament at the Ohio Rod Fields in Versailles. Ten co-ed teams played on the diamond for over half of the day in an effort to raise money and celebrate a life driven by a love of life and fellowship.

The event was rained out on Saturday but 10 teams came back on Sunday to compete in the event. Early play saw all 10 teams participate in pool play before brackets were set up to determine a winner. In the end, it was the Average Joe's team, sponsored by Joe Gentile Construction getting the job done and winning the tournament. The team was composed of several who knew Turner and also saw considerable success as student-athletes in the high school ranks.

Average Joe's defeated Friendship Tavern's Team Strunk by three runs in the championship tilt. The winning squad featured the likes of South Ripley baseball earned run average record-holder Avery Halcomb, 2021 sectional champions Cody Samples and Zach Gentile and Alexa Heidt and LJ McQueen, both of which won sectional championships in either basketball, softball or both. Kyle Jolly, a coach and teacher at the school, was credited with some clutch hitting to help the team to victory.

All proceeds from the event went towards the Landon Turner Memorial Scholarship Fund which will award in future years a $1,000 scholarship to a Jac-Cen-Del graduate pursuing a trades career. Donations can still be made through the Napoleon State Bank.
Event coordinators and participants would like to thank all sponsors of the event.