Twister baseball drops two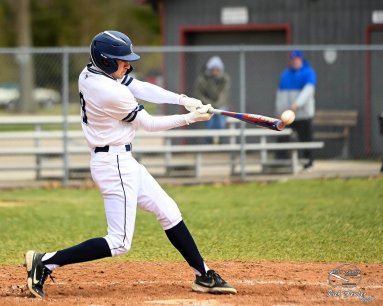 PHOTO BY RICH FOWLER
Oldenburg Academy suffered back-to-back losses to end the week on Thursday and Friday, falling to Union County and Rising Sun.

Thursday's matchup on the road at Liberty saw Oldenburg with the lead heading into the bottom of the seventh inning only to see host Union County manage the tying and game-winning runs in that same frame to pick up a 7-6 victory.

Oldenburg held a 3-0 advantage through the game's first two innings before Union County cut the deficit to 3-2 in the bottom of the third. The Twisters stretched the margin to 4-2 in the top of the sixth only to see the Patriots come back and tie the game a half-inning later, setting up a roller coaster of a seventh inning. Oldenburg's crew put together a pair of runs and looked to be in the driver's seat but Union County's surge on offense only continued.

The Patriots put runners on early in the bottom of the seventh, leading to a 6-6 tie before a base hit scored the game-winner in walk-off fashion.

Caleb Greiwe accounted for four of Oldenburg's 11 hits in the game which included three singles and a double. Jacob Hoff and Cy Muckerhide each had multiple base hits and Griffin Pltzer recorded two stolen bases. Jacob Stenger was hit with the pitching loss in a relief appearance as he pitched two and two-thirds innings, giving up five runs on seven hits with six strikeouts.

Hoff started the game and threw four innings, giving up two runs with six strikeouts.

Oldenburg returned to the diamond on Friday and fell 11-7 at home to Rising Sun. The Shiners put up a 6-1 lead early and managed to come back late in the game to finally gain some control.

The Twisters cut the deficit to 6-4 in the bottom of the second and then used three combined runs over the next three frames to nab a temporary 7-6 lead. Rising Sun however responded with three runs in the top of the sixth and two runs in the top of the seventh to get back out in front, holding Oldenburg scoreless in those final two innings to get the win.

Caleb Lehman paced Oldenburg at the plate, going 3-for-4. Greiwe pitched three innings and received the loss, throwing three innings and giving up six runs on five hits with three strikeouts.

Oldenburg (1-2) hosted Waldron at Liberty Park on Monday and host South Ripley tonight.