Two Fridays, two shutouts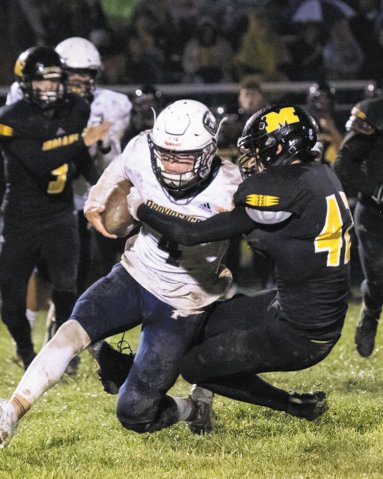 JARED ROGERS PHOTO
After trouncing the Oldenburg Twisters 48-0 at home last Friday night, the Milan Indians football team earned their second shutout victory in as many weeks by defeating the visiting Providence Pioneers by a score of 20-0 on Friday, October 11.

Wind and rain causing a slippery ball and field factored into the non-conference matchup. Yet, even as both teams struggled to maintain a grip on the pigskin, Milan appeared enthused by the chance to rumble in the mud, while Providence looked visibly frustrated by the inclement conditions.

After a scoreless first quarter, Milan broke into the endzone with 9:04 remaining in the half. Quarterback Parker Lewis broke free thanks to blocks by his offensive line and ran 51 yards for the score. A two-point attempt after the TD was no good.

The Indians rounded out the first half with another six-point score. QB Lewis tossed a ball to Adam Norman in the endzone for the catch. Once again, the two-point conversion was unsuccessful, and the game went to halftime 12-0 in the home team's favor.

Milan enjoyed a defensive touchdown in the third quarter. Near the halfway mark, a bad snap by Providence allowed Indians linebacker Aaron Harrison to recover the ball for six points. This time, Milan's two point conversion attempt was good – a pass from QB Lewis to receiver Peyton Wert.

The 20-0 score held for the remainder of the game, and with the sound of the final buzzer, Milan improved to 6-2 on the season. The tribe is currently on a three game win streak.

Altogether, the Indians marched for 156 total yards on the game, a combination of 102 yards rushing and 54 yards passing. QB Lewis led the team on the ground with 47 yards rushing on six attempts. Peyton Cavins ran for 22 yards on 14 attempts.

Next week, Milan concludes their regular season against MIFC opponents the Switzerland County Pacers. Switzerland County is currently 5-3 on their season, with wins over Crawford County, Gallatin County, Trimble County, Edinburgh, and Rock Creek Academy, and losses to Oldenburg, South Decatur, and North Decatur. The game is set for 7:00 p.m. at Switzerland County High School.