U.S. Naval Sea Cadets Corps to help out at the Versailles Pumpkin Show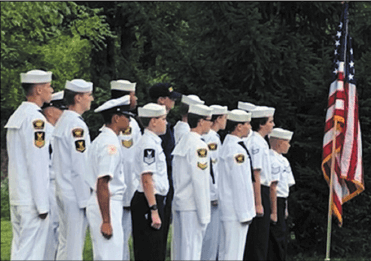 TRACY MCKITTRICK PHOTO
The U.S. Naval Sea Cadet Corps celebrated its 59th anniversary on September 10. The local group can be seen at a variety of events such as the recent memorial service held at the Daren Baker Memorial Park in Milan on September 11 to honor Col. Canfield "Buddy" Boone, who lost his life in the Pentagon on September 11, 2001.

They will be performing their civic duty at this year's Versailles Lions Pumpkin Show as they help with parking and security at the event that celebrates its 118th year. The Pumpkin Show began Wednesday, September 22 and will run through September 26. You will also see this group in the parade on Saturday, September 25 as it gets underway at 10:30 a.m. and will make its way to the square and finally the stage where each entry will be announced.

According to information from U.S. Naval Sea Cadet Officer LT Michelle Novinger, the Sea Cadets have gone on to serve their nation in the Army, Navy, Marine Corps, Coast Guard, Air Force, National Guard and Merchant Marine. They also have gone on to complete successful careers in industry, academia, and government.

"The Sea Cadet Corps is an outstanding youth leadership program for children 10 through the graduation of high school," LT Novinger said. She noted that many of the 400 U.S. Naval Sea Cadet Corps units throughout the United States have coordinated or participated in 9/11 commemoration events in the cities and towns where they live. She said the organization continues to provide compelling, life-changing programs and training that instill the values of teamwork, discipline, camaraderie, and service through the all-volunteer force along with their strong partnerships with the nation's armed forces.

Sponsored by the Navy League, the Naval Sea Cadet Corps is for youth ages 13 through 17. The junior program, the League Cadet Corps is for young people ages 10-13.
If you would like more information or to see the USNSCC Flying Tigers Squadron at monthly drills, you can contact michellenovinger@yahoo.com. You can also call Novinger at 513-374-5378. To learn more about the Sea Cadets, visit www.seacadets.org.