Umbrellas brighten skyscape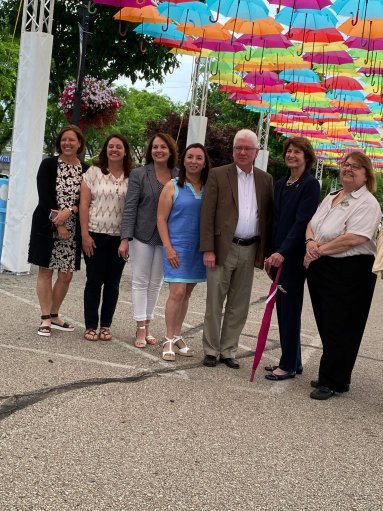 MELANIE FLODDER ANDWANDA ENGLISH BURNETT PHOTOS
The community of Batesville has been talking about the much-anticipated Umbrella Sky Project for a long time and this past weekend the bold colors took shape under the sky in the form of many umbrellas. It was just what was expected with many gathering on both Friday and Saturday to see the exhibit that is exclusive to Indiana via Batesville. Umbrella Sky Batesville will last from now until mid-October and is located at 121 Shopping Village.
The Umbrella Project has appeared in Lisbon, Paris, Pittsburgh, Miami, Pensacola, Dollywood and now is in Batesville. The installation is made from hundreds of umbrellas that appear to be floating magically in mid-air, bringing a shower of color creating a beautiful scene. 
On Friday, Elaine Bedel, secretary and CEO Indiana Destination Development Corporation, was on hand to greet those who had gathered for an invitation only meet and greet event created by Ripley County Tourism. She brought greetings from Governor Eric Holcomb and the Lt. Governor Suzanne Crouch. She congratulated everyone who had a part in getting the umbrella project going. "It takes a whole community to make something as spectacular as this," Bedel noted after being introduced by Batesville Mayor Mike Bettice.  Bedel hails from Batesville and noted it was always a pleasure to return to her home base.
Terri Trowbridge, Ripley County Tourism Director, was also on hand and excited to have the "once in a lifetime display" in Ripley County. "I am thrilled to have the Umbrella Sky Project in our county," she noted.  She was quick to give credit to the Batesville Area Art Council (BAAC) for their work in getting the project. "They have done an outstanding job in Batesville being the point of origin for this project," she told The Versailles Republican.
Others in attendance included Ethel Albanil-Rodriguez, BAAC  president, who had seen a similar project in her home city of Chihuahua, Mexico. She researched the project connecting with Impact Plan out of Portugal, who are the original creators of the Umbrella Sky Project. She noted the BAAC has been working on getting this to Batesville for the past two years, with COVID-19 complicating things. BAAC Executive Director Sarah Heppner was also in attendance, and says she is very proud of her board members. Andrea Gillman, graphic and website artist, BAAC, has also been helping with the project. 
Many others gathered under the umbrellas to celebrate this event that only happens once in a lifetime. A Grand Opening with a Ribbon Cutting Ceremony will be held this Saturday, July 3 at 11:30 a.m., Village Square, Batesville.