Upper Room Cafe celebrates 3 years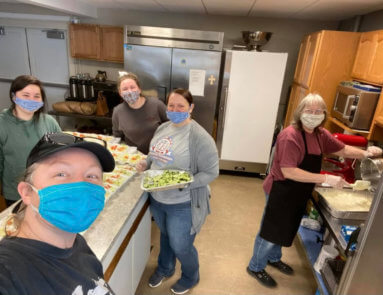 SUBMITTED PHOTOS
The Upper Room Café is known for selling great coffees in Osgood. But, the Upper Room Café is much more than just another small town coffee shop, contributing to the community in so many different ways.

The shop is owned and operated by Charlotte and Ken MacPhee, who decided to settle in Osgood about five years ago. "Previously, we had been traveling around the tri-state area doing community outreach events, but when we got to Osgood, we had a feeling this is where we were meant to stay," explains Charlotte.

When the MacPhees chose to stick around Osgood, they set out to discover the best method to help the largest number of people. A former plastic manufacturing warehouse had been gifted to their ministry and they carefully considered how to use the space in a way that would optimize their goals. One of the first uses, which came to mind, was the creation of a coffee shop.

"Our family has always loved coffee, so it wasn't hard to decide on a coffee shop as one of the main parts of our Impact Center here in Osgood," states Charlotte. Not only is the site of the Upper Room Café home to its namesake coffee shop, it hosts other community occasions too. "We have our weekly Friday night church services, our weekly food pantry ministry, and a community CrossFit gym," Charlotte adds.

The Upper Room is an event space as well. "Throughout the year we also have several businesses and organizations come and use our space to host their special events," Charlotte elaborates. "We've been able to be a part of wedding showers, baby showers, birthday parties, business meetings, church Christmas parties, and so much more. Each event we've seen and been a part of over the years have been so special."

The impact of the Upper Room, however, stretches into more overtly charitable endeavors. "A few of these events include back to school events, house remodels, 5K runs, Mother's Day flower deliveries, breakfast delivery, and so many more," Charlotte says. Donations to the Upper Room have helped people rebuild their homes, fee those in need, and provide winter supplies both locally and in Appalachia, all of which is a powerful demonstration of the Upper Room's success in making people's lives better.

Since the 2019-2020 school year, the Upper Room has maintained a partnership with Jac-Cen-Del to create a small coffee shop in the school for the business students to run. Through this partnership, a Jac-Cen-Del business student will receive a scholarship at the end of the school year. Additionally, students learn many valuable skills, including hands-on experience managing a business and the importance of supporting local establishments.

The Upper Room was a solace to Osgood during the early days of the COVID-19 pandemic. "Like many businesses and organizations, COVID-19 was really difficult for us," Charlotte says. "We had to close down the coffee shop for a bit, but knew that we wanted to figure out some way to give back. We started our elderly meal delivery service, where we spent a lot of the COVID-19 lockdown delivering meals to some of the elderly people that had been shut in. We made some great friends, and bringing them their meals every day was truly such a joy.
That's what separates us from most other coffee shops. Even in hard times when maybe coffee can't be served, we are always looking for ways in which we can love people and share the gospel with everyone we encounter. Sometimes we do that through a delicious latte and other times through a boxed lunch at the peak of COVID-19."

What the MacPhees are most thankful for, Charlotte firmly believes, is Osgood's beautiful sense of unity and their opportunity to be part of it. "The people, life moments, and even hard times that we've been able to walk through with our community have made our first three years some of the best yet," she says. "We are excited for what the next year will bring, one cup of coffee at a time."