Vaccine available to healthcare workers by appt. in Ripley County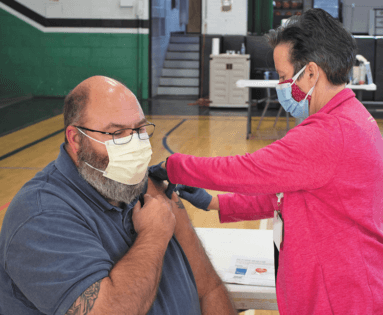 SUBMITTED PHOTO
Margaret Mary Health started vaccinating local healthcare workers last Friday at the Tyson Activity Center in Versailles. They also provided vaccines for the same population of front line care providers Saturday at the Batesville Fire Station.

The vaccine being distributed to the first group – hospital and medical staff, including those at long-term care facilities – is the first part of the Pfizer-BioNTech Vaccine, which received emergency use authorization by the federal government earlier this month.

Governor Eric Holcomb reported last Wednesday that more than 46,000 eligible Hoosier healthcare workers had registered to get the vaccine before his weekly briefing that afternoon. "It has been gratifying to see the overwhelming interest in the vaccine…That represents thousands of health care workers that believe the vaccine is safe and effective, and who are willing to do everything they can to help us end this pandemic," said Dr. Lindsay Weaver, chief medical officer of the Indiana Department of Health.

The COVID-19 Moderna Vaccine received emergency use authorization in the United States on Saturday.

The state asked the Indiana University School of Medicine to train a "volunteer army of students" to help with the vaccination process across the state. Weaver shared that more than 430 medical students and 200 nursing students had signed up to be on call to provide support for the large-scale vaccination effort within two weeks of the state's request.

Weaver shared a quote from one of the student volunteers: "For our generation, this is one of the bigger things that we've faced in our time. Short of enlisting in the military in the midst of a potential world war, this is the next best thing. We can change the tide in something that has effected everyone's life so much."

"This is an incredible blessing for everyone who has been on the fron lines in our health care systems and long-term health systems throughout this pandemic," said, Weaver of the vaccine. "Thank you for taking care of all of us."
Holcomb, Weaver and Dr. Kristina Box, commissioners of the Indiana Department of Health, encouraged the public to stay updated with more information about the vaccine in Indiana as it becomes available at https://www.coronavirus.in.gov/vaccine.