Vandalism turns into learning experience for teens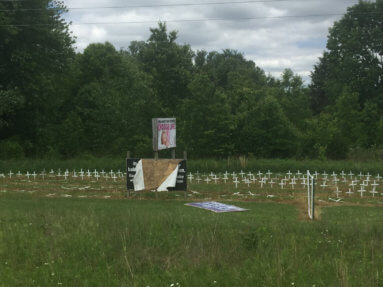 SUBMITTED PHOTOS
A pro-life display on the private property of Mike and Jennifer Purdy was vandalized over the Memorial Day weekend. Two girls from Louisville, KY, admitted they had done the vandalism and were willing to make amends.
Jennifer told The Versailles Republican she and her husband had gone to a wedding reception and began getting text messages about the situation on Saturday, May 29. A message on social media was shared that read, "Half of the crosses for the unborn were knocked over, the Trump sign knocked over, banner for life torn in half. Two girls came running to the dark car…" it went on to say she saw a trooper going by and flagged him down. 
That was the beginning of an ordeal that would have Deputies Lee Davidson and Jordan Hartmann of the Ripley County Sheriff's Office, working the case eventually.
The girls were quickly apprehended with police finding out they were camping with parents at Indian Lakes Campground for the weekend. The girls had taken a ride and figured since the display was "in the middle of nowhere" they would try their luck at expressing themselves. However, it didn't go as planned when people became involved and police quickly picked up the torch.
Jennifer, who counsels teens on a regular basis at the Crisis Pregnancy Care Center, along with husband, Mike, were quick to seize the moment for a learning experience. Rather than see the girls prosecuted, she wanted them to understand what they had done. Police and the girls' parents agreed and all parties met at the Purdy's home to discuss what would take place next. Sheriff Deputy Davidson suggested he could bring the girls over and the Purdy's could talk with them. He coordinated the effort and with the Purdy's nod, an agreement was reached.
"I told them they were destroying property and that hurts real people," Jennifer 
noted. She said the display has never been violated in the ten years it has been in place. She told them that people from their church – St. Nicholas in Sunman – made many of the crosses and many people in the community had put money into the billboards. "People leave flowers there and pray," she continued.
"It (the display) has also saved lives," Jennifer said. She told the girls about another teenager who was at a crossroad decision in her life and found the display to be a guiding light leading her to not destroy her child growing inside her. "I wanted them to know how important the display is and has been to people," she said. She related the story to the girls that the pregnant teen said she has always seen those crosses and thought if she ever got pregnant she wouldn't add another cross to the display.
  "The girls felt really bad. They were sorry and said they would fix everything and pay for the signage they had destroyed," Jennifer told The Versailles Republican. When they offered to come and physically work for the Purdy's, Jennifer told them to go back to their community and turn the situation into a "great positive" for others. She suggested they do yard work, run errands in their own community for those in need. She also asked that they tell their peers the importance of the lesson they had learned, and, "maybe, just maybe, it might change someone else's behavior."  The girls agreed they had let social media influence them and they could see it wasn't worth it. One of the girls said, "I'm now realizing social media is doing us a disservice by dehumanizing everything because you don't think of the real people behind the movement…you don't' think it's hurting real people."
"We forgave them," Jennifer said, saying they thanked the Purdy's for that, and wished them well as they go forward.
"The Sheriff's Office had our back," Jennifer said. She noted that it took everyone working together to get a good outcome of a bad situation. And, after all, that's what the Crisis Pregnancy Hotline offers on a daily basis. They offer free pregnancy tests, give peer counseling on options and resources, maternity and baby clothes and items are given out, along with prenatal vitamins. They also help with the first doctor visit, give referrals for other agencies for financial and other prolife services, along with post abortion counseling for women struggling with a past abortion and in need of healing. If you would like to know more about the work at the center, contact PO Box 132, Batesville, IN 47006, call 812-934-5116, or go online www.batesvillecph.org where you'll find volunteers willing and able to help you.
Many people in the community including Gary Payne of Iron Timbers, Osgood, reached out to the Purdy's to see if they needed help to rebuild the display. One of the first was the Strotman Family, who have been friends for many years. Jennifer said they were thrilled with the community's response and know this is a great place to live and perhaps it will serve as a shining light to those who have a lapse in judgment and remember the second chance they were given.