Versailles American Legion air rifle team wins state CMP match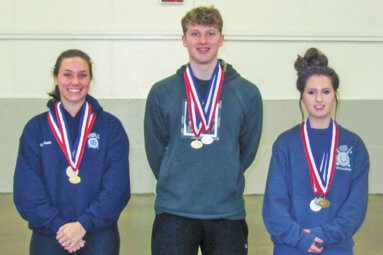 SUBMITTED PHOTO
The Versailles American Legion (VAL) junior air rifle team traveled to Greenfield on Saturday, January 11 and won the Indiana Rifle and Pistol Association's State CMP (Civilian Marksmanship Program) match. The team victory means VAL shooters advance to the association's northeast regional for the third year in a row.

Twenty four states will meet at that regional in March, the largest of three regionals held nationwide, with the other two being in west and south divisions.

Versailles defeated nine teams in Greenfield: Bloomfield North ROTC, Ben Davis MC-ROTC, Bellmont, Shoals American Legion, Marion A-ROTC, Georgetown, LVFG 4-H, Hancock County 4-H, and the Bloomfield Sharpshooters.

As a team, Versailles shooters earned a score of 2039-46, besting Bloomfield North's 1878-18 and Ben Davis' 1826-19. Scores are accumulated according to how close to the bullseye a shooter is during each round, with the number following the dash signifying the number of bullseyes by each team or individual.

Georgetown's Emilee Seitz earned Top Gun individual honors on the match, followed by VAL's Richie Block in second and Maggie Holt in third. Versailles shooters dominated each category at the match. In the prone position, first place went to Richie Block, followed by Maggie Holt and Tanner Franklin. In the standing round, Seitz took first, followed by Maggie Holt and then Bloomfield's Ryan Tollett.

Finally, in kneeling, VAL's Trenton and Tanner Franklin took first and second followed by Logan Hall of Georgetown.

To see more photo coverage pick up a copy of the January 21 Osgood Journal.