Versailles DQ wins Tri Kappa Golf Tourney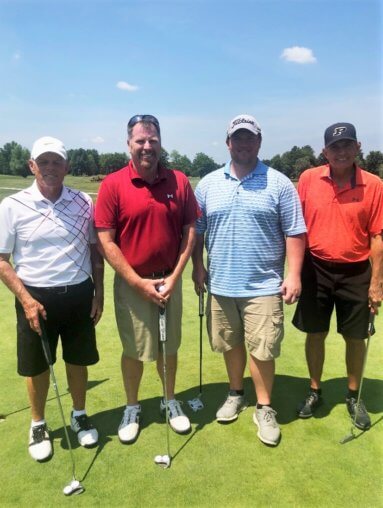 SUBMITTED PHOTOS
Rain cleared and sunny skies were had as the Versailles-Osgood Delta Rho Chapter of Tri Kappa hosted its 25th Annual Tri Kappa Golf Tournament this past Saturday at Kelly's Hidden Acres Golf Course in Milan. 
Several teams and golfers took part in the event which also included a variety of award winners on the day. 
In terms of the tournament itself, the Versailles Dairy Queen sponsored team of Larry Armbrecht, Brian Armbrecht, Brandon Schmidt and Randy Snodgrass won the tourney with an 18-hole scramble score of 54. Alex Haussler, Mark Haussler, Chris Hannum and Chris Helfer teamed up to finish runner-up with a 55 and the team of Doug Kinnett, Steve Caldwell, Ken Shelton and Kevin Elder shot a 56 and took third place. 
Award winners included Kevin Wang for the longest putt, Chris Grossman for the longest drive in the women's division and Brandon Schmidt who won the longest drive in the men's division. Doug Kinnett won the Closest-to-the-Pin Contest. 
Tri Kappa thanks all of those who helped volunteer towards the event and those that competed in the tournament. The organization is already making plans for the 2022 tourney.