Versailles junior shooters claim Olympic title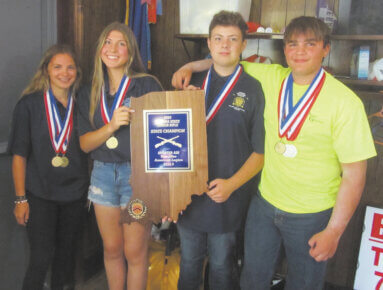 SUBMITTED PHOTO
The Versailles American Legion Post #173 junior shooting team received one final championship for the season, claiming the Indiana Junior Olympic Championship.
Awards from the event were handed out earlier this month at the post in Versailles. The Olympic title follows a plethora of match wins and state championships as part of the 2022-2023 season under coaches Jerry Hewitt and Steve Scoggins.
Four of the top seven overall spots in the Olympic field were taken by Versailles shooters. Anna Block, Lilly Guerra, Chris Couch and Phillip Baumgartner, the core of the team's success all season long, received gold medals for their efforts. Block finished third for the day while Baumgartner sat at fifth place overall.
Block was a first place shooter in the standing portion of the shoot while Baumgartner put together a top ranking effort in the kneeling portion alongside a second place in the prone portion. Guerra was fourth in the standing shoot.
Post #173 also won the 2023 Indiana 4-H State Championship in May, putting its total state titles at four this season with the addition of the Junior Olympic crown this month. The new season for the Versailles crew is set to begin within the next couple of months.