Woman makes soup from rescued food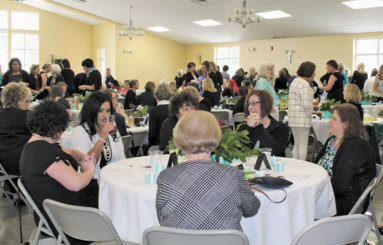 WANDA ENGLISH BURNETT PHOTO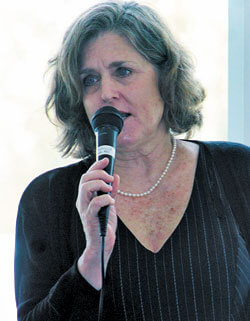 "Feed my sheep. Feed my sheep," were words that kept echoing in Suzy DeYoung's mind as she wrestled with what she was supposed to be doing with her life. The Cincinnati based chef was in business with her sister, but she kept hearing a call to do something different in her life. When she was checking out her Facebook account one night, she saw the plea of a teacher who told a story about a child so hungry she couldn't even make it into the classroom after a Friday snow day and the weekend due to a lack of food at home. That set the wheels in motion and she knew what she was supposed to do and who she was supposed to feed.
DeYoung studied French and business at the University of Cincinnati and trained as a chef in Paris, France. She and her sister ran a successful catering business, La Petite Pierre. Her father, Pierre Adrian and grandfathers were great chefs, with her grandfather serving people such as Dwight Eisenhower, Winston Churchill, and John F. Kennedy. Grandfather Albert Schmidt was the executive chef of the Union Club in New York City. Her father was a chef at the Maisonette in Cincinnati, and unfortunately died of cancer when she was just 13.
When DeYoung was in the catering business with her sister, they were asked to cater a meal for President George Bush as he visited Cincinnati. She told how after the meal had been taken to him, he summoned for her. She thought, "Oh, no, what could have gone wrong?" But, President Bush simply wanted to tell her how wonderful everything was and to encourage her to follow in her father's footsteps with this caution, "It will be the hardest thing you ever do."
DeYoung was the keynote speaker at the Ripley County Community Foundation's 16th Annual Women in Philanthropy Fundraising Luncheon. The event was held Tuesday, April 30 at the St. Maurice Catholic Church Hall in Napoleon with over 300 women attending – a record attendance, according to Amy Streator, RCCF executive director. Excitement filled the room as the women gathered, talked, and learned about how they could make a difference in someone else's life.
The direction of DeYoung's life changed drastically and she told her story about La Soupe, an organization she founded that rescues food that is considered perishable from grocers, distributors, farmers and restaurants. The food is brought into La Soupe, "where our chefs transform it into healthy soups and casseroles." You might wonder what the menu could be using rescued food. One menu might be chilequile torta, Parisian brie, lobster bisque and more. All of the food that is used would have been thrown into the trash, but it is perfectly good.
With DeYoung's chef background, she quickly created a place where others are learning the art. She told how she had a roadblock right from the beginning when she went into a school to teach the children how they could prepare food for themselves. They didn't even have a stove or an oven. Most said their families just used a "hot plate" type cooker or a microwave. But, she didn't let that information deflect her from her mission. She soon found ways around that, and created dishes that could be prepared in a microwave and still bring good, fresh nutrition to those in need. Soon the phrase, "Cincinnati gives a crock" was formed, and children and others were learning how to transform something headed for the garbage, into delicious meals.
Since LaSoupe's inception in 2014 in Walnut Hills, it has grown. They are now looking at an empty space that will allow them more room to create and share. Their impact on the area is sincerely overwhelming. They have made 442,799 servings donated to agencies; rescued 795,446 pounds of food; and produced 7,648 gallons of soup by local chefs.
The organization has teamed up with all sorts of people, organizations, businesses, etc. to make sure any food that would otherwise not be used, is put to good use. Volunteers called "food runners" sometimes get the food and also take the prepared food to agencies that feed the hungry. Their motto is "Rescue. Transform. Share."
DeYoung told the story of a gathering where lots of fruit was put out on the tables and children were choosing what they wanted. One little boy took an orange and bit right into the peeling. She said it was like a slow motion no as she went toward him, but it was too late. He tasted the bitterness. Then she taught him and others how to peel an orange, take a slice and pass it down to the next person. Every orange was different, some sweeter than others. "God didn't make every orange the same."
The speaker ended with every woman in the room standing with a rousing applause. She brought to light a story that is so basic and yet so important. She encouraged those in attendance to "listen". She noted, "Everybody has a passion, don't be afraid." Several times throughout her story she noted, "it was just a God thing". She fully believes that she is where she is supposed to be and the proof is in the pudding, or soup in this case!
Women at the event could vote for one of five giving groups locally to receive a $500 and $1000 check, which included: Safe Passage, Ripley County Health Department, Milan Community Emergency Relief, St. Louis Catholic School and Summer Food for Kids of Batesville. First place of $1,000 went to Summer Food for Kids of Batesville. This will go toward providing healthy and nourishing food for students of the area schools that receive lunch cost support during the school year. The food is provided during the summer months.
Second place of $500 went to Safe Passage, a group that is dedicated to victims of sexual and domestic violence through help, healing and hope. They will use the money for The Healing Corner, which is a library and book club of supportive, inspirational books on the topics of abuse.
The Ripley County Community Foundation continues to put money into the community with the help of all those who have donated, started foundations of their own through the RCCF, and events like the fundraising luncheon. For more information you can contact them at 13 E. George St., Suite B., Batesville, 812-933-1098 or office@rccfonline.org