Woman pleads guilty mid trial last week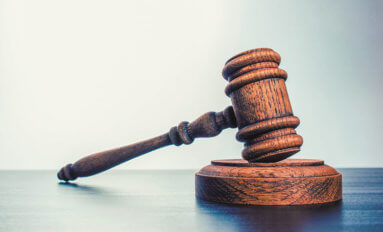 SUBMITTED PHOTO
Midway through a jury trial Tosha Richardson, 39, Sunman, pled guilty to Dealing in Methamphetamine, a Level 4 Felony. This trial occurred last Wednesday, December 18. According to information from Prosecutor Ric Hertel, Deputy Prosecutor Ryan Marshall had a compelling opening statement, which he believed weighed heavily on the defendant and her attorney.

Richardson was taken immediately from the courthouse to the Ripley County Jail where she is awaiting sentencing. She faces up to 12 years in prison.

The charges stemmed from an Indiana State Police investigation in October of 2018. At that time, troopers located over four grams of methamphetamine, a glass-smoking pipe, multiple plastic baggies, and a digital scale.

Before Richardson pled guilty, the jury heard from Trooper Joe May, the lead investigator in the case. He testified that the seized evidence demonstrated intent to distribute methamphetamine. Richardson had admitted that she bought the meth from Cincinnati and gave it to at least three of her friends other than herself. She also admitted to troopers during the investigation that she used the digital scale to weigh the methamphetamine.

When Trooper May testified, he noted that meth is commonly dealt in a manner similar with the evidence discovered. Firearms were also discovered at the residence, but May said that Richardson's boyfriend claimed the firearms belonged to him. The boyfriend also claimed that a jar of marijuana, which was found in the house, belonged to him. Police discovered a small amount of prescription pills and a small amount of marijuana in Richardson's purse at the time of the initial arrest.

After hearing from just one of the State's three witnesses, Richardson pleaded guilty. Prosecutors were going to call two more witnesses including a lab analyst.

Prosecutor Hertel said while it is out of the ordinary to have someone plead guilty mid trial, they do have a right to plead guilty at any time. "I think we had a strong case against her and the defense attorney knew that." He gave praise to Prosecutor Marshall for picking the jury, doing outstanding work in putting the case together, and giving a compelling opening statement.