Women enjoy outdoors at Big Oaks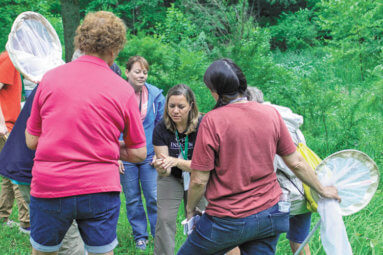 Jared Rogers Photo
Old Timbers Lodge, within Big Oaks National Wildlife Refuge (formerly the Jefferson Proving Grounds), was host to the 15th annual Outdoor Women event on Saturday, June 8. Although rain clouds threatened, the day was a resounding success, with over 110 women participating in a wide variety of outdoors and wellness themed classes.
Throughout the day, participants chose four, one and a half hour classes to take that were held either inside the lodge, outside nearby, or on the surrounding Big Oaks property, such as on Old Timbers Lake.
Indoor classes included topics like attracting moths to your garden, herb gardening, falconry, kombucha brewing, identifying wild edibles, and creating art in nature.
Outdoor classes at the lodge included building bird houses, identifying and inoculating mushrooms, building fire, treating wild water, filleting fish, outdoor yoga, tai chi, and knot tying.
Outdoor classes held a short distance from the lodge included firearm familiarity, archery, atlatl throwing, tomahawk throwing, rappelling, kayaking and canoeing, and fly fishing.
These and other course topics invited women ages 12 and up to learn a new skill or fine tune an interest, all while in a fun and easy-going atmosphere. The Big Oaks Conservation Society organizes the event, and it is one of the few times each year that the historic lodge is open to the public. To keep up to date with happenings throughout the year, follow the Big Oaks Conservation Society on Facebook.