YES Home thankful for $100,000 grant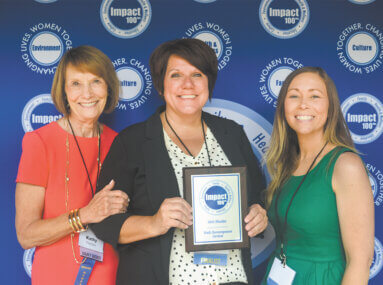 SUBMITTED PHOTO
Recently the YES Home was granted a $100,000 grant. On June 27, 2023 Impact 100 announced the seven non-profit finalists that were selected for the 2023 Impact 100 grant at the meet the Finalist and Education event. The YES Home was chosen as one of the seven that would be up for the grant offered by Impact 100. The seven finalists were asked to present their transformational projects at the Impact 100 Annual Awards Celebration at Music Hall on September 12, 2023.
At the event, the finalists presented their proposals to the Impact 100 membership, and after member votes were counted, four of the seven received an Impact 100 grant to implement their projects.
The members had evaluated initially over 100 applications to get to the finalists. Candidates had to submit applications to be chosen in one of five categories: Culture; Education; Environment, Preservation and Recreation, Family and Health and Wellness. In a Press release from Impact 100 Janet Collins, Impact 100 review Coordinator stated, "There are so many transformational projects happening in our region, the decision to choose the finalists was very difficult. All seven non-profits make passionate cases to address critical needs in our community-programs that aim to support teen moms and other disadvantaged young people, enable transportation to keep gainful employment, provide needed home repairs, reduce gun violence, reduce food waste and enrich senior citizen dignity."
The YES Home submitted their application on the basis of renovating the facility, creating a safe and therapeutic space for counseling and family visits for youth often experiencing abuse, neglect or mental health issues, ensuring they receive the necessary support and services to overcome their challenges and improve their well-being. The YES Home is in Aurora. The residential program provides a safe house and comprehensive services 24 hours a day, 365 days a year to boys and girls between the ages of 12 and 20 years old who are under the supervision of the Indiana Department of Child Services or Probation. The YES Home proposed for this Impact 100 grant to expand the YES Home mission and vision. The YES Home is a trauma informed agency that encourages youth to achieve their highest potential, improve behaviors, make positive choices with the end goal to unify them with their families. Counsel and family engagement is in part how they accomplish their mission. The facility is over capacity with counseling and visitation space.
Being a non-profit organization, money is mainly raised through grants, donations and fundraising for the YES Home projects. Amy Phillips, Executive Director of the YES Home, stated to Osgood Journal, "When we got word, we were one of the seven finalists we were so excited that we would finally be able to get some of the renovations we have been needing for a long time."
The YES Home desires to continue to serve the youth in Southeastern Indiana and across the state. The short-term goal of providing counseling and family visit space will allow the facility to meet current needs while preparing for future expansion.
On Sept 12, 2023. At the Impact 100 Annual Award Celebration, the YES Home was granted $100,000 for their renovation project process. This grant monies for renovation will now allow the YES Home to increase capacity by a minimum of 12 to 15 additional youth being seen consistently for 6 months of therapy, upon discharge of the child leaving the completed program. It will also allow more room for family visits. The phase one 1 of this project is projected to start construction in late Spring of 2024 and to be completed by Fall of 2024. For more information on the YES Home visit their website www.yeshome.org. To learn more about Impact 100, or for information about upcoming 2024 grant application process, visit www.impact100.org.