Young Indians win SIWC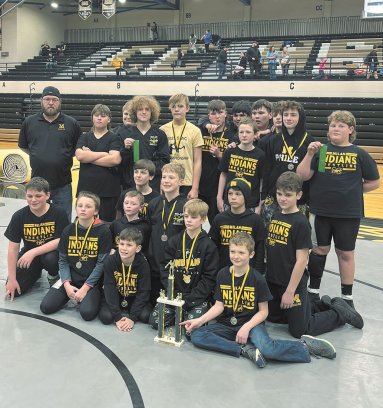 SUBMITTED PHOTO
Milan's varsity wrestling program is filled with young talent and that pool extends through the middle school ranks. That was evident over the weekend when the Indians captured the Southern Indiana Wrestling Conference middle school championship on Saturday in Corydon.

The meet served as the season finale for Milan's middle school program which has racked up numerous accolades throughout the winter. Saturday's conference crown was won over more than a dozen other schools that participate in SIWC action.

Six Milan grapplers were named conference champions. Dawson Poole was a winner in the 65-pound class and that was followed by 75-pound champion Mason Baylor and 145-pound winner Hunter Haugh. Jayden Disbro earned top honors at 170 pounds and Indian champions were rounded out by Zane Richardson at 220 pounds and Lukas Hensley at 285 pounds. At 70 pounds, Milan's Zack Roell was runner-up and Lane Smith repeated that feat in the 90-pound class. Other second place finishers were Beckett Langferman in the 106-pound class and Tommy Poole in the 120-pound class.

Hayden Poole finished third for the Indians at 80 pounds and Jake Roell was third at 85 pounds. Other Milan finishers on the day included: Carson Ellis, fourth, 160 pounds; Kolton Harris, fifth, 95 pounds; Kane Budd, fifth, 138 pounds; Bryce Senger, fifth, 182 pounds; Brody Walker, sixth, 195 pounds.