Youth archers dazzle at state shoot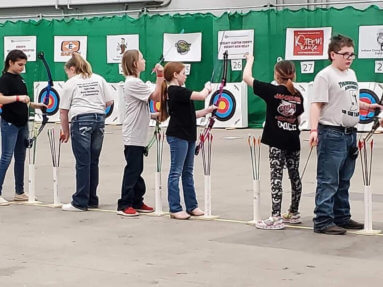 PHOTO COURTESY OF JCD SPORTS
One coverage area archery team laid claim to top team honors while several other individuals from around our local schools performed at a superb level as part of the 2022 Indiana NASP State Bullseye Tournament on Saturday at the Indiana State Fairgrounds in Indianapolis.

Batesville, Jac-Cen-Del, Milan and South Ripley were all represented in the state shoot which saw action at the elementary school, middle school and high school levels. The last several state archery events have featured local flavor.

And on Saturday it was Batesville Middle School who earned a state championship for the coverage area, scoring 3301 points to win the tournament. Castle North Middle School was runner-up at 3248 points while the top five was rounded out by Madison (3236 points), Jennings County (3217 points) and North Harrison (3199 points). Batesville's No. 2 middle school squad sat in ninth place overall with 3170 points. Other participating schools from the area were South Ripley Junior High School in 22nd place at 3038 points, Batesville's No. 3 middle school team in 27th place with 3013 points and Milan Middle School in 30th with 2962 points. There were a total of 35 middle school teams in the state shoot.

From Batesville Middle School, Lance Weiler was the team's top archer, scoring a 287 which ranked him first among 157 competing seventh grade boy archers. Out of 415 total middle school competitors, Weiler finished third overall. Owen Denni shot a 286 which was fifth overall in the middle school division and fourth place among eighth grade boy archers. Inside the girls division, the school's top two shooters were Macy Young and Gracie Doll with a 280 and 277 respectively. Young was 10th out of 334 middle school girl archers and sixth overall among eighth grade girls. Doll was 18th overall and fourth among sixth grade girl archers, which totaled 109 individuals.

South Ripley's top shooter was Stanton Ross with a 269, ranking him 61st overall and 35th out of 144 eighth grade archers. Sixth grader Abe Speer shot a 264 and finished in the top 100 overall with an 11th place finish among sixth grade competitors. The middle school's top two female archers were sixth grader Jayda Hartig and seventh grader Allee Benham. Hartig's 258 put her in the top 100 of middle school girls and 22nd out of 109 sixth grade girls. Benham's 255 was 31st among state seventh graders. Eighth grader Maddison Webster also had a 255 placing her 58th among eighth grade girls.

Eighth grader Levi Brown led Milan Middle School with a 281 which was 16th overall and 11th place in the eighth grade boys division. Samantha Johnson was 33rd among middle school girls with a 272, which was 17th among eighth grade girls. Abigail Carpenter, a seventh grader, shot a 263 and was 19th in her grade level while Wyatt Phelps and his 251 were in the top 100 of the eighth grade boys group.

Batesville was one place off of a state championship in the high school division, scoring 3345 points while champion Castle had 3394 points. The top five was rounded out by Tecumseh, Evansville Reitz and Evansville Mater Dei. Batesville's No. 2 team was 26th out of 35 teams with 3106 points and South Ripley finished 34th with 2967 points.

Junior Blake Belter was the top archer for Batesville, shooting a 286 which was 13th overall in the boys high school division out of 377 teams. Erik Gunter and Ryan Duerstock, a sophomore and freshman respectively, each shot a 281. Gunter ended up 29th overall and was the fourth-best shooting sophomore boy while Duerstock was 33rd overall and ranked sixth among freshmen. Batesville's top female shooters were Alexis Allison with a 282 and Lydia Haskamp with a 282. Allison was fifth among sophomore girls and 18th overall while Haskamp ranked fifth among freshmen girls and 19th overall.

Kody Stephen and Wade Patton paced the South Ripley High School boys. Stephen shot a 272 was 17th among sophomore boys while placing 91st overall and Patton's 260 ranked inside the top 50 sophomores. Junior Lily Welch was the top female shooter for the Raiders, scoring a 260 and ranking 39th among junior girls. Jessika Thomas shot a 258 and was 48th in the senior girls division.

Jac-Cen-Del High School is sending one Lady Eagle to national competition after a brilliant performance. Junior Cassidy Harmeyer was the top shooting junior girl on Saturday with a 287, placing sixth out of 350 high school female archers and ranking seventh out of a total of 956 girls in competition throughout three divisions. Harmeyer was forced to wait on official word about her individual results until early in the week but confirmed on Wednesday that she is bound for nationals. Her teammate, senior Abby Davis, shot 10th out of 76 senior girls and placed 30th in the high school division with a 279.

The Eagle boys got a 263 from sophomore Clay Davis who ranked 30th among his grade level and freshman Jackson Bunnell shot a 259 and was 59th among freshmen archers.
Batesville Intermediate School finished 11th in elementary school competition with 2715 points, Jac-Cen-Del was 16th with 2623 points and South Ripley was 22nd out of 28 overall teams with a 2560. Triton Central Elementary won the state crown with a 3102 score.

Owyn Yorn of Batesville placed 27th among all elementary school boys but was first among fourth grade boys with a score of 255 and classmate Ayden Schneider shot a 244 to finish 11th among fourth grade boys. Top girl archer for Batesville was Kiersten Luers with a 252, placing her 21st in the elementary division for girls and 17th among fifth grade girls. Caroline Ramsey was a top 100 shooter among fifth grade girls with a score of 217.

Jac-Cen-Del put two elementary school girls inside the top 10. Katie Bunnell finished third overall out of 272 elementary archers and was third among the fifth grade group with a 270 score. Fourth grader Jayden Comer shot a 261 and was 10th in the elementary division while also being the No. 2 ranked fourth grade girl at state. Kasin Bowling was the leading boy archer for the Eagles as he scored a 249 and was 33rd in the fifth grade boys division. Jaxon Perkins was ranked No. 50 among fifth grade boys with a score of 243.

Fifth grader Brandt Eberle was 43rd out of 346 elementary school boys on Saturday and led South Ripley with a 247 score and Graham Meisberger, a fourth grader, scored a 241 and was 14th out of 161 fourth grade boys. Lila Hert had a 237 which was 37th in the fifth grade girls division and classmate Josie Bearden was 65th in the grade with a 224.

National competition information will be posted in the coming weeks as local archers go back to their respective schools and prepare.