Amelia Ann Wolter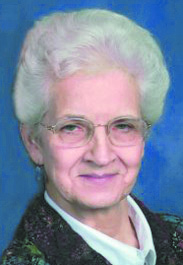 Amelia Ann Wolter (Simon), 80, of Osgood peacefully passed away Sunday morning July 17 at home. She was born July 9, 1942 in the home of her parents Arthur Sr. and Eva Simon (Tunny). On June 13, 1964 she married Louis R. Wolter, the love of her life with whom she celebrated 58 years together last month.

Amelia was a 1960 graduate of Osgood High School. She was a loving wife and devoted mother who enjoyed working around the home, took pride growing and tending her flowers, gardening and canning, thrived on completing projects around the house through her natural talents for carpentry, fixing things, and creatively coming up with solutions to unique situations. She made her house a home with loving touches that were family inspired. She enjoyed listening to music, using her computer and the iPad. Many would say she was a little spitfire at times with her adventurous and spunky spirit. We learned never to underestimate her capabilities. She was a lifelong parishioner of St. Maurice Catholic Church of Napoleon. She especially enjoyed the ministries of being a catechist and a Martha for the church.

Besides being a wonderful wife to Louis, her pride and joy in life was her family. She was mother to five children: Paula (Mike) Bobek of Plain, WI, John (Amy) Wolter of Charlotte, NC, Matthew Wolter of Phoenix, AZ, Adam (Devonna) Wolter of Batesville, IN and Thomas (Rebecca) Wolter of Austin, TX. Her 12 grandchildren include: Andrew (Shelby) Bobek and Steven (Maureen) Bobek; Christopher, Nicole and Evan Wolter; Justin (Jennifer) Wolter and Branden Wolter; Seth and Layne Phillips; Crystal Leahy, Megan and Blake Wolter. Her 5 great grandchildren include Kayla and Cora (Justin); Ariana, Waylon and Kyla (Crystal). Surviving siblings include sisters, Mary Gilland, Linda (Tim) Wissel and Rita (Jim) Bedel; brother, Dale (Bonnie) Simon; and sister-in-laws, Patricia Simon, Dolores Simon, Rosie Wolter and Marlene Wolter. She was preceded in death by her parents, infant sister, brothers, Arthur Jr. Simon, Charley (Lucille) Simon, Donald (Ola) Simon and Eugene Simon along with numerous in-laws.

Visitation will be at Stratton-Karsteter Funeral Home in Versailles, IN Friday, July 22 at 4:00 – 7:00 p.m. with rosary prayer at 4:00 p.m. Mass and Catholic burial will take place July 23 at 11:00 a.m. at St. Maurice Catholic Church in Napoleon, IN. Memorials can be offered to St. Maurice Catholic Church in care of the cemetery and the Franciscans Sisters of Oldenburg.