Barbara Jean Wood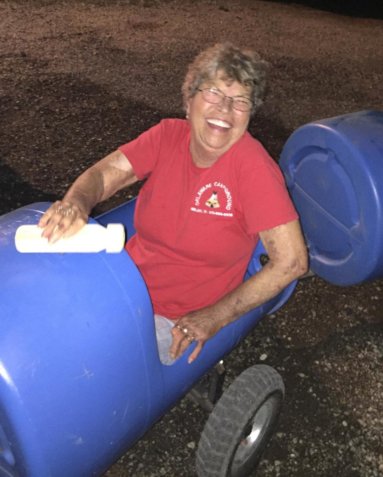 Barbara Jean Wood, age 72 of Versailles passed away in Louisville, Kentucky, on Saturday, June 19, 2021. She was born on November 18, 1948, the daughter of William and Ruth (Rhienfrank) Canada. She grew up along with her brothers and sister outside of Versailles.

Barbara was a graduate of South Ripley High School. Early in her teen years a certain boy caught her attention, he went on to join the service. However, fate united her and Donnie Wood on December 4, 1965. They lived the remainder of their years together until Donnie's passing 2016. They enjoyed life, spending weekends with their camping family in Delaware Campground, singing karaoke, picking the guitar, and enjoying friendship. Barbara liked to play bingo, but her greatest joy was being mom and nan.

She is survived by daughter Kathy Berry, grandson Scott (Megan) Berry, granddaughters Melanie (Jordan Griffin) Meisberger and Melinda (Chad Springer) Berry, great grandchildren; Matthew Taylor, Maison Taylor, Korrin Meisberger, and Oliver Knigga, brothers; Larry (Mary) Canada, David (Nancy) Canada, Floyd (Shirley) Canada, and Kenny Canada, sister Pauline Souders, sister-in-law Bett Canada, along with numerous niece and nephews. She was preceded in death by brothers, Alfred, Donald, Robert and Charles.

Visitation will be held on Saturday June 26, 2021, from 10 am- 12 p.m. Funeral services will be held at 12 pm. All services will be held at Neals Funeral Home in Osgood. Burial will follow at Cliff Hill Cemetery in Versailles. Online condolences can be placed at Nealsfuneralhome.net Memorials can be given to Fisher House in Cincinnati, in care of the funeral home.