Catherine M. May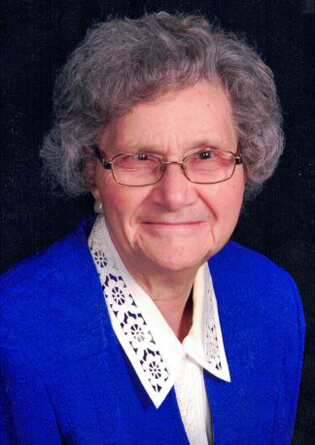 Catherine M. May, 89, of Versailles passed away at 4:25am, Monday, November 15, 2021 at Aspen Health Campus in Greensburg. She was born near Rexville on November 2, 1932 the daughter of Glennie and Ruth Campbell Farrell. She was married to Stanley May on April 8, 1950 and he preceded her in death on February 11, 1995.

Survivors include three sons Edward May of Jamestown, Ohio, Richard May of Versailles, and Gerald (Elena) May of Parrish, Florida; one daughter Linda (Barry) Borter of New Marion; daughters-in-law Teresa May and Melissa May both of Versailles; 13 grandchildren, 20 great-grandchildren, and 2 great-great-grandchildren; one sister Helen Scott of Versailles. She was preceded in death by her sons Ronald and David, her granddaughter Meghan May, daughter-in-law Betty May, her infant sister Carolyn, and her brothers Ernest and Kenneth Farrell.

Stanley and Catherine raised their six children on their farm in the Shelby neighborhood south of Versailles. Being an old farm girl herself, Catherine worked the farm alongside her husband. She was the custodian for the Shelby Christian Church from 1975 until 2017 and also worked as custodian for Pollards Bowl in Versailles. She was an accomplished quilter and made sure that each of her grandchildren had a quilt that she had made. She also enjoyed her garden, being outdoors, and could "cut a rug" to the old tune Rocky Top. Catherine was a 75 year member of the Shelby Christian Church and attended the Osgood Church of Christ.

Funeral services will be held at 10:30am Friday, November 19th at the Stratton-Karsteter Funeral Home in Versailles with Bro. Earl Thomas officiating. Burial will be in the Shelby Cemetery. Visitation will be on Thursday from 5pm to 8pm. Memorials may be given to the Osgood Church of Christ or the Shelby Cemetery in care of the funeral home.