Charles "Chuck" Kilpatrick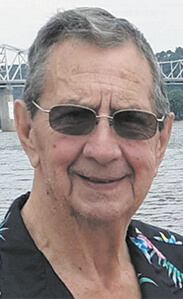 Charles "Chuck" Kilpatrick, 86, of Columbus, died at 1:15 p.m. on August 21, 2023, at his home with his family.
Chuck was born March 1, 1937, in Boaz, Alabama, the son of Versie Kilpatrick and Lorene Edmonson Kilpatrick. He married Val Beach on May 20, 1977.
Survivors include sons, Andy (Shanda) Beach of Nebraska, Indiana, Tony Beach of Columbus, Indiana, Sky (Avarie) Kilpatrick of Bloomington, Indiana, daughter, Kyan Kilpatrick of Columbus, Indiana; and also, a son, Curtis Kilpatrick; sisters, Janice Noles of Birmingham, Alabama and Martha Lester of Cumming, Georgia; grandchildren, Amber (Jed) Barton, Avery Kilpatrick, Ethan Kilpatrick, Vayda Keedy, and Quinn Kilpatrick; and 3 great-grandchildren.
Chuck was a member of the First Christian Church and he was previously employed at Impact Forge, David R. Webb, and Columbus Regional Hospital. Chuck was a graduate of the University of Alabama, where he worked security for Coach Bear Bryant. He was a John Wayne fan, enjoyed Western novels, and reading books by Louis L'Amour.
At the request of the family, cremation was chosen. A memorial service will be held at a later date.
Memorials may be made through the funeral home to the Columbus Fellowship Club or the Monroe County Humane Society.
He was preceded in death by his parents.
Arrangements entrusted to Jewell-Rittman Family Funeral Home.
You are invited to view their video tribute, light a virtual candle and send a message to the family via the Internet. www.jewellrittman.com