Chris Anthony Braley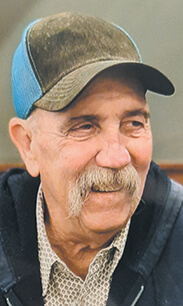 Mr. Chris Anthony Braley, age 64, of Madison, Indiana entered this life on August 1, 1958 in Ripley County, Indiana. He was the loving son of the late, Robert and Katherine Damm Braley. He was raised in Ripley County and graduated in 1976 from Jac-Cen-Del High School in Osgood, Indiana. Chris was raised Catholic and was involved in Ripley County 4-H and he attended the Oklahoma State Horseshoeing School for 18 months. He owned and operated Chris Braley and Son Farrier for 20 years. He had also worked for the Ripley County Highway Department as a truck driver and later for the Jefferson Proving Ground. Chris worked with Canaan Utilities for three years and then with the Jefferson County Health Department for five years. On June 23, 2013, Chris was united in marriage to Roxann Kay Brawner at their home on Geyman Road. This happy companionship of 23 years was blessed to blend their families together. He was a loving dad to, Travis, Kristy, Terra, Dalton and Gus. He enjoyed being a papaw and treating his grandchildren to ice cream and suckers. He loved his dogs and held membership in the Professional Kennel Club, the United Kennel Club and was a big supporter of the Youth Professional Kennel Club. Chris was instrumental in starting the Purse Project in 2015 for the Youth PKC and had raised over 15000.00. He placed 3rd in the World PKC in 2011 and had placed 2nd in the Super Stakes in the PKC. Chris was an avid coon hunter, loved horseback riding, fishing, hunting of any kind, and loved his Tea especially from Frisch's Restaurant. Chris never met a stranger and would help anyone in need. Chris died on Monday, May 15, 2023, at his home near Madison, Indiana.

A LOVING FAMILY
Chris will be missed by his loving wife and companion of 23 years, Roxann Kay Brawner Braley of Madison, Indiana; his loving daughter, Kristy Braley King and her husband, Austin of Madison, Indiana; his loving sons, Travis Braley of Dillsboro, Indiana, Dalton Braley of Delaware, Indiana, Gus Braley of Madison, Indiana; his step daughter, Terra Babbitt and her husband, Shane of Dolphin Island, Alabama; his grandchildren, Jacob "Jake" Braley, Landon Braley, Aivley King, Katie King, Kinsley King, Wyatt Braley, and Caleb Phillips; his great grandson, Lane Braley; his sisters, Kathy Caplinger and her husband, Tom of Greenwood, Indiana; Tena Crews and her husband, Moody of Columbia, South Carolina; his brother, John Braley and his wife, Melinda of Versailles, Indiana; his sister in law, Roseann Brawner Garrett and her husband, Joey of Murfreesboro, Tennessee; his mother in law, Sharon Rose Sommer Brawner of Madison, Indiana; his uncle, Frank Braley of Milan, Indiana; several nieces, nephews, cousins, and other relatives. He was preceded in death by his father, Robert Braley and his mother, Katherine Damm Braley Rutherford.

FUNERAL CEREMONY
Funeral services will be conducted Tuesday, May 23, 2023, at 1:00 p.m., by Preacher Clifton Hartley at the Morgan & Nay Funeral Centre, 325 Demaree Drive in Madison, Indiana. Interment will follow in the Tanglewood Cemetery near Versailles, Indiana.

VISITATION
Friends may visit Monday from 3:00 p.m. – 7:00 p.m. and Tuesday from 11:00 a.m. until the time of service at the Morgan & Nay Funeral Centre, 325 Demaree Drive in Madison, Indiana.
MEMORIAL EXPRESSIONS

Memorial contributions may be made to the Youth PKC. Cards are available at the Morgan & Nay Funeral Centres of Madison and Hanover. Online condolences, remembrances, and memorials can be left at www.morgan-nay.com