Chris Edward Hassfurder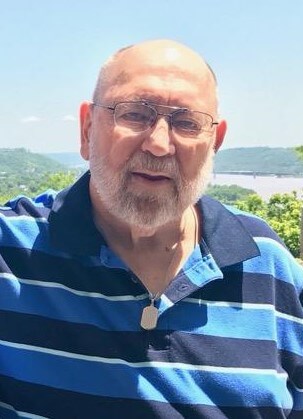 Mr. Chris Edward Hassfurder, age 73, of Madison, Indiana formerly of Versailles entered this life on May 9, 1947 in Madison, Indiana. He was the loving son of Calvin B. and Ella Jean Evans Hassfurder.
He was raised in Madison and was a 1965 graduate of Madison Consolidated High School. In school he enjoyed sports and especially industrial arts. Chris was inducted into the United States Army and Reserves and was honorably discharged. Chris then went on to further his education and graduate in 1970 from Indiana State where he earned his life sciences degree. He was united in marriage on September 3, 1977 to Judith Ann Huelson at the Versailles Baptist Church. Chris and Judy made their home in Versailles from 1977-1987. This happy union of 43 years was blessed to raise a daughter, Anita and sons, Rob, Matt, and David. They moved to Madison in 1987 and were members of the First Baptist Church in downtown Madison. Chris had worked at Reliance Electric and later with the Indiana Unemployment Office and was the youngest state employee to become manager. He had last served as a case account manager for River Valley Resources before becoming disabled. He has also held membership in the Lions Club for several years. He was an avid coin collector, stamp collector, loved his dogs and most enjoyed being with his family and grandchildren. Chris was a loving husband, devoted dad, son, brother, and grandpa. Chris died on Thursday, October 29, 2020, at 6:40 p.m. at the King's Daughters' Hospital in Madison, Indiana with his loving family at his side.

Chris will be missed by his loving wife of 43 years, Judith Ann "Judy" Huelson Hassfurder of Madison, Indiana; his loving daughter, Anita Ball of Madison, Indiana; his loving sons, Rob Franklin and his wife, Amy of Versailles, Indiana, Matt Hassfurder and his companion, Stephanie of Bloomington, Indiana, David Hassfurder of Madison, Indiana; his loving mother, Ella Jean Evans Hassfurder of Madison, Indiana; his loving sister, Mary Greves and her husband, Randy of Madison, Indiana; his grandchildren, Jacqueline, Caleb, Nathanael, Isaac, Mary, Simeon, Rebecca, Megan, Kayla, Casey, and Braden; his great grandchildren, Alexa, Elizabeth, Jackson, Kate, Jerome, Eli, Danny, and Levi; his sister in law, Jayne Williams and her husband, Wayne of Scottsburg, Indiana; his uncle, John T. "J.T." Evans of Cleveland, Ohio; several nieces, nephews, cousins and other relatives. He was preceded in death by his father, Calvin B. Hassfurder, died August 27, 1996, his mother in law, Rebecca E. Huelson, died February 7, 1979, and his father in law, Norman L. Huelson, died July 31, 2009 and his sister in law, Norma Jean
Evans, died August 26, 2010.
Funeral services were conducted Monday, November 2, 2020, at 11:00 a.m., by Rev. Randy Crutchfield and Pastor Terry Glasglow at the Morgan & Nay Funeral Centre, 325 Demaree Drive in Madison, Indiana. Interment followed in the Fairmount Cemetery in Madison, Indiana.

Memorial contributions may be made to the American Red Cross or the First Baptist Church or the Jefferson County Animal Shelter. Cards are available at the Morgan & Nay Funeral Centre's of Madison and Hanover. Online condolences, remembrances and memorials may be left at, www.morgan-nay.com.