Crystal Hayden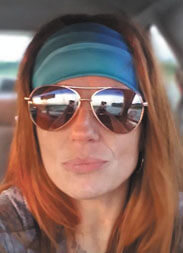 Private Funeral services will be held for Crystal Hayden, 41, North Vernon. Born on February 24, 1981, in Columbus, Crystal was the loving daughter of William and Margaret (Walston) Glenn. She passed from this life at 7:00 p.m. on Friday, September 9, 2022 in North Vernon.
Crystal loved fishing and was an avid outdoorsman. She enjoyed doing things with her hands. Most of all she cherished making memories and spending time with her children and grandchildren.

Crystal is survived by daughters: Andrea Hayden Dixon, and Abigale Hayden, both of North Vernon; sons, Peyton, William and James Hayden of North Vernon; father, William Glenn of North Vernon, mother, Margaret Glenn of North Vernon; sister, Eva (George) Harris of North Vernon; brother, Michael (Leann) Glenn of North Vernon; granddaughter, Eleanor Dixon of North Vernon.

Memorials may be made through the funeral home to the family for expenses.

Friends and family are invited to light a candle or leave a message of condolence in Crystal's memory at www.sawyerfuneralservice.com.