Cynthia "Cindy" Stutler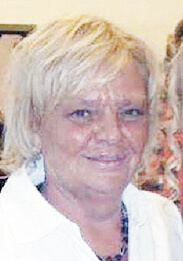 Cynthia Ann "Cindy" Stutler, 65 passed away Saturday, November 11, 2023 at Ripley Crossing Hospice Care in Milan, IN. after a courgeous two-year battle with pancreatic cancer.
She was born April 9, 1958, the daughter of Herman and Patricia "Patty" (Jackson) Stutler. She grew up in Versailles, Indiana, attending Versailles Elementary School and South Ripley Junior-Senior High School where she graduated in 1976. After high school she was a student at Ball State University majoring in Special Education. She had a 38 year career in caring for the mentally and physically disabled working at Muscatatuck State Hospital in Indiana, the Ohio Department of Developmental Disabilities and Goodwill Industries in Ohio. She left her last job in 2018 to care for her father as he battled cancer. Whether it was a disabled client, a sick family member or a stray animal she was a caregiver extraordinaire.
She loved her family, her friends, the Cincinnati Bengals, fishing and her Shih-tzu, Dexter, not always in that order. An avid sports fan, "Stut" as she was known by her friends, was a starting guard on the first female basketball team at South Ripley High School in 1975. She also loved playing the trumpet in the high school band.
She is survived by her mother, Patricia "Patty" Stutler of Anderson, SC; her son, Jeremy (Danielle) Stutler of Milan, two grandchildren, Jackson and Devyn Stutler, and one brother, Kurt (Jean) Stutler of Anderson, SC. She was preceded in death by her father, Herman Stutler, Jr., and her paternal grandparents Herman and Dorothy Stutler and maternal grandparents, Charles and Elizabeth Jackson.
Her wishes were for her remains to be scattered at a favorite fishing spot followed by a celebration of life dinner where her family and friends share music and funny stories. This will take place at a future date, time and place to be determined.
Memorials may be sent to South Main Chapel & Mercy Center, or to the Ripley County Humane Society in care of the Stratton-Karsteter Funeral Home in Versailles.