David Earl Furnish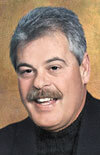 Mr. David Earl Furnish, age 62, of Madison, Indiana, entered this life on February 24, 1958 in Madison. He was the loving son of Earl Wayne Furnish and Shirley L. Mills Hayden.

He was raised in Switzerland and Ripley Counties. David graduated in 1977 from South Ripley High School where he enjoyed playing basketball and other sports. On April 12, 1980, David was united in marriage to Sherri Lynn Geyman at the St. Anthony Catholic Church in China. This happy union of 40 years was blessed with one son, Bryce.

David was employed with the Indiana Department of Transportation for a total of 40 years where he was a foreman for several years at the Versailles Unit. For the past four years he served as a highway tech/inspector for the Seymour District working in the Vevay office. He had attended many training and technical schools for his job and was most recently certified and licensed as an inspector.

David and Sherri resided in Versailles from 1980-2010, then they moved to Bacon Ridge and lived on the family farm. David was a true family man, a devoted husband, loving dad, brother, uncle, son, son-in-law, brother-in-law, uncle and friend. He enjoyed attending his son's sporting events and coaching his teams. He liked playing church softball back in his younger years for St. Anthony Catholic Church. He was a long-time member of St. Magdalene Catholic Church and now the Prince of Peace Catholic Church.

While living in Versailles he enjoyed coaching area youth as well as the Versailles DeMolay and also at the Madison Boy's Club. He served on the Versailles Town Board for four years and held membership in the Versailles Masonic Lodge No. 7 F. & A.M. David was the family repairman, he was known as "Mr. Fix-it" in his family, loved fishing, hunting, and antiques. Family functions were something David always cherished and he enjoyed working on the farm. David died on Monday, April 13, 2020, at 11:45 p.m. at the IU Health Methodist Hospital in Indianapolis with his loving wife at his side after a courageous battle with cancer.

David will be missed by his loving wife of 40 years, Sherri Lynn Geyman Furnish of Madison; his beloved son, Bryce Furnish of Madison and his companion, Madison Bilyeau of North Vernon; his father, Earl Wayne Furnish of Vevay; his mother-in-law, Mary Jane Turner Geyman of Madison; his brother, Alan Furnish of Madison; his half-sisters, Alicia Byard and her husband, Tony of Versailles, Debbie Bradley of French Lick; his sister-in-laws, Janet Geyman of Madison, Debbie Geyman and her husband, Scott Friedersdorff of Kalamazoo, Michigan; his aunts and uncles, Alois and Joyce Geyman of Madison, Harold and Caroline Woodard of Harrison, Ohio, Vera Wolf of Madison, Jean Morton of Pleasant, Roberta Pavy of Lawrenceburg, Karen Dickerson of Osgood, John Ward of Versailles, Danny Dickerson of Florida, Howard, Jr. and Dottie Mills of Florida; several step-brothers and step-sisters; several nieces, nephews, cousins and other relatives.

He was preceded in death by his mother, Shirley Mills Hayden, died February 16, 2002; his step-father, Earl Hayden, Jr. died December 12, 1984; his step-mother, Wanda Kennett Furnish, died June 22, 2014; his father-in-law, Leo R. Geyman, died April 10, 2010; his brother-in-law, Joseph Rishty, died March 16, 2014; his uncles and aunt, Bobby Furnish, Janet Ward, John Robertson, Leon Morton, Wilfred Pavy, Richard Wolf, Fred Turner and George Turner.

Private graveside services were conducted Monday, April 20, at the St. Magdalene Cemetery, 305 W. State Street in Madison. Interment followed in the St. Magdalene Cemetery, 305 W. State Street in Madison. A private family visitation was held Monday from 11:00 a.m. – 1:00 p.m. at the Morgan & Nay Funeral Centre, 325 Demaree Drive in Madison.

Due to the Covid-19 Pandemic, a Celebration of Life Memorial Visitation and Memorial Mass will be held at a later date.

Memorial contributions may be made to the Canaan Volunteer Fire Department or the Saint Magdalene Catholic Cemetery Trust or the Prince of Peace Steeple for the People Fund or the IU Foundation for families suffering with cancer. Cards are available at the Morgan & Nay Funeral Centre's of Madison and Hanover. Online condolences, www.morgan-nay.com.