Donald Eugene Dunbar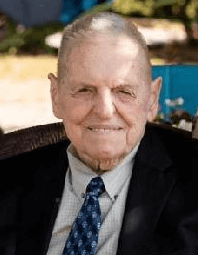 Donald Eugene Dunbar age 92, he was a man that had a passion for his hometown, his county, and his country, passed away early Saturday August 28, 2021. He was born on February 1, 1929 on his family farm in the Mud Pike area. Donald was the only son of the late Ralph and Ethel (Knowlton).

At the age of 7, he would move to Maple Street in Osgood where his family opened a dairy processing business. It became known as the Dunbar Bultman Dairy. The dairy was moved in 1947 from Maple Street to what is now known as the Osgood Grub Company. Donald learned early on how to work. He ran a paper route in town and then would ride his bike out to the farm to help milk the cows.

He was a proud Osgood "Cowboy" graduating in the Class of 1947. Life would make a change in late 1950 when Donald was drafted by the United States Army. He proudly served his country during the Korean War, where he was stationed in Germany working in the Military Police. Upon his honorable discharge in 1953, he returned to his Osgood roots.

When he returned, a young lady Shirley Jenks, who lived just down Maple Street caught his attention. They were united in marriage on December 31, 1954 at the Osgood First Baptist Church. They moved the next fall into their home on Beech Street, where they have spent the last 66 plus years. They raised their 3 daughters Brenda, Debbie, and Lucinda in that home.

Donald sold the dairy in 1978. He wanted to stay busy and worked along with the late Floyd Menchoffer doing construction and maintenance work around town. His family had been involved in politics prior and Donald had a desire to become active as well. He first ran for Ripley County Commissioner in 1980, and was reelected 5 times. He also served on the County Council from 2000-2012. He served on the Ripley County Park Board, where he was a vital part in the complete transformation of what our fairgrounds looks like today. Donald was instrumental in many projects. A favorite was funding for the buffalo at the Osgood mini park. That buffalo will be featured in the newly renovated park in just a few weeks. In 1988, Shirley had a desire to purchase the Card and Gift in Osgood, where Donald once again served as the handyman and gofer.

Donald will be deeply missed by wife Shirley, daughters; Brenda (Rex) Strimple of Holton, Debbie (Paul) Hardy of Osgood, and Lucinda of Batesville, grandkids Ryan (Kayla) Strimple Matthew (Katelyn) Strimple, Larie (Andy) Butler, Lindsey (Travis) Urban, Rachel (Kyle) Schneider, and Sarah (Justin) Fromer, great grandchildren Dylan Butler, Keegan Schneider, Annsley Schneider, and Everett Strimple, and Aunt Elizabeth (Knowlton) Downey.

Visitation will be held on Tuesday August 31 from 4-7 pm. at Neal's Funeral Home in Osgood. Funeral services with Military Honors will be held on Wednesday at 10:30 also at the funeral home. Doors will open at 8:30 am on Wednesday. He will then be taken for final resting to Mud Pike Cemetery. Memorials can be given to the Mud Pike Cemetery Fencing Project or the Osgood Volunteer Fire Department in care of the funeral home. Online condolences can be placed at