Donnabelle Adams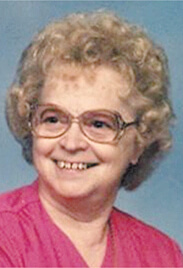 Donnabelle M. Adams, 97, passed away on Sunday, February 19, 2023 in Bowling Green, KY. She was born April 23, 1925 in Walkerton, IN to Rev. Harry and Nellie Adams.
Donnabelle was a member of Owensboro Christian Church and had also attended Audubon Nazarene Church. In earlier years, Donnabelle was a gospel singer with her sisters.
She enjoyed writing poetry and even published a poem book in 1977. Her other hobbies included reading, piecing quilts and writing long letters to friends and family.

Survivors include her daughter, Vickie (Anthony) Spires of Bowling Green; four grandchildren, Harrison (Sarah) Spires, Eli (Leigha) Spires, and twins Callie and Kate Spires; nieces, Gail Holly and Glenda Adams; nephews, James (Shel) Adams and Robert (Renee) Adams; and several great-nieces and nephews.

In addition to her parents she was preceded in death by brothers, Johnny and Harry; and sisters, Evalyn Holly and Avanell Adams.

A graveside service will be held at 1 p.m. EST on Thursday, February 23, 2023 in Union Flat Rock Cemetery near Osgood, Indiana. Pastor James Adams will be officiating and pallbearers will be Anthony Spires, Harrison Spires, Eli Spires, James Adams, Robert Adams and Ethan Adams. James H. Davis Funeral Home and Crematory is in charge of arrangements.

Online messages of condolence may be made at www.davisfuneralhome.com.