Dorothy F. Abplanalp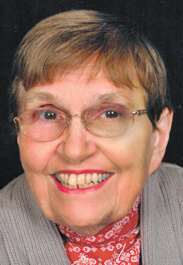 Dorothy F. Abplanalp, 90, of Napoleon passed away at 1:30 a.m., Thursday, June 24, 2021 at the Manderley Health Care Center in Osgood. She was born near Osgood on May 3, 1931 the daughter of Raymond and Jennie Follmer Butt. She was married to Delbert Abplanalp on February 6, 1954 and her husband of 67 years survives.
Other survivors include two sons, Roger (Dee) Abplanalp of Osgood and Larry (Brenda) Abplanalp of Napoleon; one daughter Peggy Abplanalp of Indianapolis; two grandchildren Joe (Linsey) Abplanalp of Greensburg and Chelsea Abplanalp of Aurora; one great-grandson Xander Abplanalp; one brother Ray (Doris) Butt of Batesville.
Mrs. Abplanalp was a 1949 graduate of Napoleon High School. Her working career spanned several years where she had employment with Griner's Grocery in Napoleon, Dr. George S. Row in Osgood, and the Napoleon Lumber Company. Dorothy gave much time back to the community which involved her being secretary of the Brunner-Lamb School District Flower Club, cataloging burials for the St. John Lutheran Cemetery in Napoleon, genealogist for the Bultman Reunion, and placing flags for the veteran graves at St. John Cemetery. Her cherry pie was legendary and she enjoyed preparing birthday and holiday meals for her family. She also enjoyed reading and gardening. Dorothy was a lifetime member of the St. John Lutheran Church in Napoleon where she taught Sunday school for several years. She attended the St. Paul Lutheran Church at Smyrna and was also a member of the Ripley County Historical Society and the Osgood Historical Museum.
Funeral services were held on Monday, June 28th at 3 p.m. at the Stratton-Karsteter Funeral Home in Versailles with Doug Brougher officiating. Burial was held in the St. John Lutheran Cemetery at Napoleon. Visitation was Sunday from 4 p.m. to 7pm. Memorials may be given to the Alzheimer's Association or the St. John Cemetery in care of the funeral home.