Dorothy Mae Morrison Sampson Shrock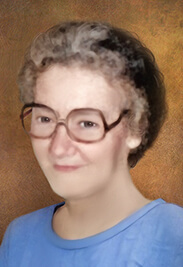 Mrs. Dorothy Mae Morrison Sampson Shrock, age 89, of Madison, Indiana entered this life on March 22, 1934 in Charlestown, Indiana at the family home. She was raised in Charlestown and graduated in 1951 from Charlestown High School. She was raised and a member of the Mt. Lebanon Presbyterian Church in Charlestown. On June 17, 1951 Dorothy was united in marriage to Howard D. Sampson. this happy union of 33 years was blessed with sons, Howard, Donald Ray and daughters, Dorothy Laverne, and Terry Lynn. The family settled in the Volga Community on a farm in 1965 and she began employment with the Madison State Hospital working there as an attendant until 1974. She and her husband, Howard bought a semi truck in downtown Madison and drove the semi for the next four years. She then began a career in the cardiac department with Jennings Community Hospital in North Vernon for 15 years. Dorothy then went to work for Quality Home of Madison for Steve Gray in his office for ten years. She had last worked with her grandson Darrell in purchasing homes and restoring them. She enjoyed attending the Charlestown High School Alumni Association and traveling the country, having driven to Alaska, Texas and Mexico. She enjoyed gardening, working in her flowers and her dog Munckie. Dorothy died on Friday, April 21, 2023, at 6:11 a.m.

Dorothy will be missed by her loving daughters, Dorothy Laverne Austin of Madison, Indiana, Terry Lynn Dean of Madison, Indiana; her loving sons, Howard "Danny" Sampson and his wife, Peggy of Madison, Indiana, Donald Ray "Donnie" Samspon and his wife, Elana of Clearwater, Florida; her grandson she raised, Darrell K. Sampson and his husband, Walter Tinsley of Madison, Indiana; her brother in law, Billy Dietrich of Henryville, Indiana; 16-grandchildren, 36 great grandchildren, and 13 great great grandchildren; several nieces, nephews and other relatives. She was preceded in death by her father, Clayborn Eugene Morrison, died 1971, her mother, Nancy Mae Reynolds Morrison, died 1969, her husband of 33 years, Howard D. Sampson, died December 3, 1984, her second husband, Albert Shrock, died November 4, 1994, her sons in law, Kenneth Austin, died 1997 and Roger Dean, died 2008, her grandchildren, Cassandra Sampson, died 1974, Donald Sampson, died 2011, and Cynthia Elaine Sampson Geerts, died October 26, 2021, her great grandchildren, Kenneth Austin, died January 2005 and Connner Zane Geerts, died October 26, 2021, her brothers, William Morrison, died 1997, James Morrison, died 1979, John Morrison, died 2003, her sisters, Jewel Morrison Hostetler, died 2003, Marie Morrison Waddle, died 2015, Vada Morrison Dietrich, died 2017, and Ruby Morrison James, died 2015.


Funeral services will be conducted Thursday, April 27, 2023, at 1:00 pm, by Pastor Pete Sinclair at the Morgan & Nay Funeral Centre, 325 Demaree Drive in Madison, Indiana. Interment will follow in the Hopewell Cemetery in Volga, Indiana.

Friends may visit Wednesday from 3:00 p.m. – 8:00 p.m. and Thursday from 11:00 a.m. until the time of service at the Morgan & Nay Funeral Centre, 325 Demaree Drive in Madison, Indiana.

Morgan & Nay Funeral Centres of Madison and Hanover. Online condolences and remembrances can be left at www.morgan-nay.com