Dorothy T. Craig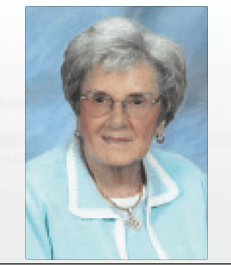 Dorothy T. Craig passed away peacefully in the early morning hours of March 3, 2022, close to her family in Centerville, OH.

She was born in Versailles, Indiana, on April 14, 1919, to Dova and Harry Thompson. She married Carlos (Barney) Craig on May 1, 1943. Dorothy was preceded in death by her parents, her husband, and her sister, Jean Martin.

She is survived by her two daughters and sons-in-law, JoJean Demaree and husband, Gene Demaree of Centerville, OH, and Jill Ann Bramman and husband, Lee Bramman of Atlanta, GA; four grandchildren: Dara Demaree and husband Kris Fraggos of Springboro, OH, Brandy Vianello and husband, Brian Vianello of Mariemont, OH, Erik Bramman of Chicago, IL, and Kyle Bramman and wife, Kristin of Dallas, TX; three great grandchildren: Talon Vianello, Demaree Vianello, and Hudson Vianello of Mariemont, OH.

Dorothy graduated from Versailles High School in 1937 and attended Bethel Women's College in Hopkinsville, KY, for one year. She then transferred to Tennessee Tech. After studying Journalism for two years, she returned to Versailles to work for her father, Harry W. Thompson at the Versailles Republican and Osgood Journal (Ripley Publishing Co.) where she worked for 78 years, retiring at the age of 94 in 2013.

Dorothy was a life long member of Tri Kappa (Versailles-Osgood Chapter), Tyson Methodist Church, Versailles, and Girl Scouts, especially handling cookie sales for years.
Dorothy loved to travel and throughout the years traveled many countries. She also enjoyed playing card games and dancing. After retiring, she moved to Dayton, OH, where she lived independently in a retirement community near her daughter Jo Jean and son-in-law Gene.

In lieu of flowers, memorials may be given to Tyson United Methodist Church, Versailles, and Tri Kappa Versailles-Osgood Chapter through Stratton-Karsteter Funeral Home.
Visitation was Monday, March 7 at 11:00 a.m. with the funeral service at noon at the Tyson United Methodist Church, Versailles with Rev. Mark Zerkel officiating. She was laid to rest beside her husband in Cliff Hill Cemetery.