Dotty Blackwell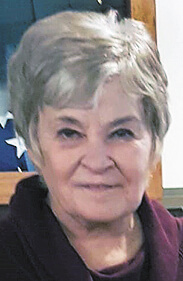 Dotty Blackwell, 73, of Lawrenceburg, Indiana, passed away on Monday, June 27, 2022. She was born July 27, 1948 in Milan, Indiana, daughter of Irene (McKittrick) Godsey and the late John Godsey.

Dotty was a member of the Greendale First Church of Christ. She liked to travel and do Sudoku puzzles. She enjoyed her Tuesday night dinners with "the Girls" and loved spending time with her kids and grandkids. She graduated Milan high school in 1966, Hanover College in 1970, and received her Masters from Ball State University in 1974. She was a member of the Alpha Omicron Pi Sorority at Hanover College. She worked as a teacher at Lawrenceburg Community Schools for 37 years.
She is survived by her mother, Irene Godsey of Lawrenceburg, IN; 2 sons, Rob (wife Rachel) Blackwell of Fayetteville, GA, John Blackwell of Ft Mitchell, KY; and 4 grandchildren, Nolan Blackwell, Morgan Blackwell, Lucas Blackwell, Logan Blackwell. She was preceded in death by her father, John Godsey; her loving husband, Steve Blackwell; and one brother, Robert Godsey.

Family and friends will be received on June 30, 2022 from 11 am to 2 pm at Greendale First Church of Christ. Funeral services will be held at Greendale First Church of Christ, Thursday, June 30, 2022 at 2 pm, with Pastor Tim Russell officiating. Interment will follow in the Craven Cemetery, Milan, Indiana. Contributions may be made to the PAWS, ALS Association, or Greendale First Church of Christ. Fitch-Denney Funeral Home, 455 Ridge Ave., Greendale, IN 47025, (812) 537-2080, has been entrusted with arrangements.