Elaine G. (Mehring) Jacobs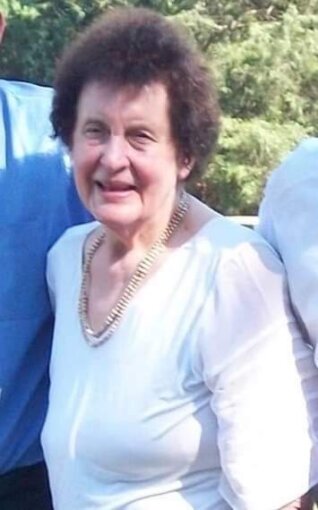 Elaine G. (Mehring) Jacobs, 87, died peacefully at Methodist Hospital in Indianapolis on Wednesday, June 15, 2022. Elaine was born in Batesville, Indiana, to Alvin and Gertrude (Waechter) Mehring. She grew up on a farm south of Millhousen, attended Millhousen Catholic grade school, and Oldenburg Academy. After graduation she moved to Cincinnati to work in retail.

Elaine married Jerry Jacobs in December 1955 and moved to Millhousen. Elaine and Jerry loved to travel and visit their children around the world. She loved to frequent art museums and cultural exhibitions anywhere they traveled. Elaine was known for her kindness, letter writing, and notes of encouragement to family and friends. She was a prolific reader and was well versed in all sporting events involving the Pacers and the Colts. Elaine was a dedicated member of the Ladies Auxiliary of Millhousen. She retired from BCA in Greensburg after 35 years of dedicated service. She was a lifelong member of Immaculate Conception Church.

Elaine is survived by daughter, Lisa (Jim) Pulskamp of Greensburg; sons: Gordon (Annette) Jacobs of Tampa, Florida, Derek (Barb) Jacobs of Greensburg, Michael (Sandy) Jacobs of Belpasso, Sicily, and David (Dianna) Jacobs of Greensburg. Twelve grandchildren: Tiffany, April, Michael Patrick (Brittany), Ashley (Joe), Jennifer, Derek, Alex (Hannah), Cara, Logan, Travis, Brayden, and Hunter. She was loved by 16 great grandchildren. Elaine will be sadly missed by her sister Dorine (Raymond) Retzner of Philadelphia, PA. and numerous nieces and nephews. She was preceded in death by her husband Jerry (2009) and her parents.

Family and friends gathered at 8:30 am on Saturday, June 18, 2022, at St. Mary's Catholic Church in Greensburg to pray the rosary. Visitation followed until 10:00 am. The funeral mass was held at 10:00 am, also at St. Mary's Catholic Church. Burial was at Immaculate Conception Catholic Cemetery. In lieu of flowers, donations can be made to Immaculate Conception Cemetery Fund, Millhousen. Porter-Oliger-Pearson Funeral Home and Cremation Service was entrusted with the arrangements.