Esther Booster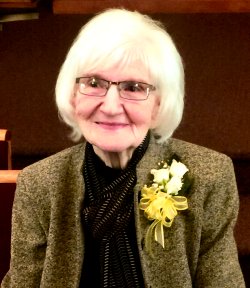 Esther M. Booster, 92, of Versailles passed away at 3:25 a.m., Saturday, October 17, 2020 at her home. She was born near Rexville on March 15, 1928 the daughter of Roy and Marie Bunselmeier Hunteman. Esther's father was killed in a train collision accident when she was very young and she was raised by her mother and step-father Edward Hunteman. She was married to Robert Booster on August 10, 1946 and he preceded her in death on December 14, 2011.

Survivors include two sons Don (Jan) Booster of New Palestine and Rev. Mark (Ruth) Booster of Versailles; three daughters Marilyn (Wayne) Percifield of Versailles, Carol (Sam) Lapin of Burlington, Kentucky, and Ann (John) Tuhela of Apopka, Florida; 8 grandchildren, 12 great-grandchildren, and 2 great-great-grandchildren. She was preceded in death by her brothers Paul, LeRoy, Calvin, and sister Ruth Allmeroth.

Mrs. Booster was a 1946 graduate of New Marion High School. While being a full time Mom, Esther helped Bob with the farm while they also owned and operated Bob Booster TV in Versailles as well as the Versailles Sinclair station. She also held jobs at the Val store in Versailles, Osgood IGA, Conn Organ in Madison, and the Versailles Super Market. In later years, Bob and Esther wintered in Florida and Esther worked at Beall's Department Store in Winter Haven. Esther was a member of the St. Paul Lutheran Church in Olean.

Visitation for Esther will begin at 12:30 p.m. on Saturday, October 24th at the St. Paul Lutheran Church in Olean followed by graveside services at 2:00 pm at St. Peter's Lutheran Cemetery in Olean. Memorials may be given to St. Peter's Cemetery in care of the Stratton-Karsteter Funeral Home in Versailles.